The first city we stayed at was Leon. Famous for its colonial architecture like the cathedral.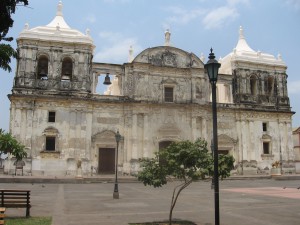 At night, a couple of food vendors set up their stalls just behind the building and sold delicious plates with grilled cheese and vegetables. We stayed at the Sonati Hostel where we met Toby and formed the plan to hike up the Telica Volcano and camp there for the night. We went by ourselves and got a self-drawn map from a guy from Algeria, who did the trip a couple of days earlier and who was also kind enough to lend me his backpack. We took a bus to the closest little village and hiked up in the afternoon. Luckily we met some people working on the surrounding fields as the map proofed anything but a reliable guide. And without going astray too many times we arrived early enough to have a look around the crater before sunset.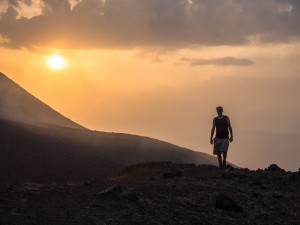 We had heard, but only half believed it at the time, that there are people selling cold beer up here. But it proofed to be true as we saw this guy with his bright red cooling box, which we could see several hundred meters away, coming to intercept us as we walked along the ridge of the old crater towards the now active one. The people are from a cooperativa which help keeping things organized in the area. They keep an eye on people clearing the woodlands for their fields, help in case of an emergency, when there is a warning about rising activity of the volcano and people are asked to evacuate the dwellings closest to the volcano. So even if it is not their private property, where we pitched our tents on a meadow below the crater, we agreed to pay two dollars each. After dinner we made a photoshooting with the illuminated tents…
…and climbed up to the crater once more to have a better look at the red lava pools. No photos could do it justice. And it is just half as exciting without the sound. That reminded me on the time in Indonesia and the Volcan Bromo, which besides the sound made itself noticeable through the shaking earth beneath ones feet while appoaching the crater. Here's another shot of the volcano with Toby just after we arrived…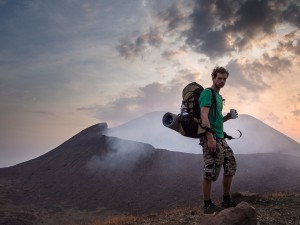 … and the crater after sunset.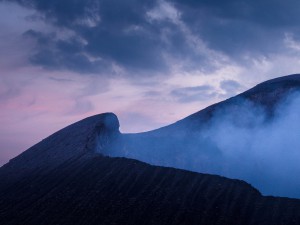 We all slept just a little and when we got out of our tents, some horses were grazing nearby, as we made our way towards the crater one last time for sunrise.
on the next day we packed and started on the long ride to Granada,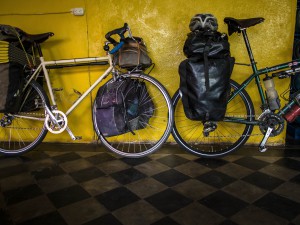 from where we will take the ferry to Isla Ometepe.