We arrived in Granada rather late. We went out for dinner with a girl from Corn Island who made for quite some contrast to a couple of tired cyclist with her lively manner. The next day was spent with only little time in the saddle. Since i couldn't be bothered to explore the town on foot, i cycled through the center for a while and then stopped in the central park where a band was playing and people dancing.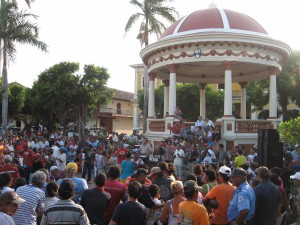 I cycled around a bit more to find a place to change money and some lunch while i was passing a church every five minutes.
The following day we left Granada on a boat bound for Ometepe.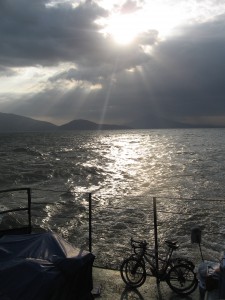 We arrived sometime after dark and had a somewhat amusing ride from the dock into town over a sandy and rocky road. Ometepe sure had an island feeling to it. Everything is a bit downscaled and laid back. We had heard about a good place to camp on the other side of the island and started after a good and complementary breakfast the next morning. Around midday we stopped at "ojo de agua", a natural swimming pool that is part of a finca. It was a good place to spend the hottest time of the day, lie in a hammock and to go for a swim every now and then. When we were about to leave, we met Tina and Ben, a cycling couple from australia and germany. After some initial exchange of greetings we started cycling towards Balgue for lunch and made loose plans on meeting again at the Finca Magdalena, the place where we planned on camping, the next day. We camped on a wooden platform which was something like a huge balcony with a great view over the lake and one of the two volcanos which formed the island.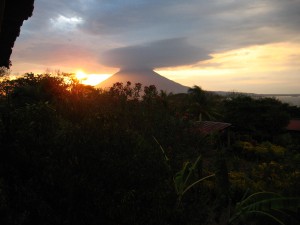 We chilled throughout the day until Tina and Ben arrived with their bikes and after they had a look around decided to move in as well. To avoid the panamerican we all decided on continuing by boat to the other end of Lago Nicaragua to San Carlos over night to cross into Costa Rica from there on a another boat.