i made a stop at a bicycle shop before leaving town. everything took a little longer and so it was past noon when i left cancun. the heat was only sometimes mellowed by a passing cloud. but once you start to ride, the breeze takes of the edge. it wasn't a pleasant ride along the busy highway towards the south, but the shoulder was wide enough to feel save all the time. there was a bit of a tailwind, the surface even, the land flat and i was surprised how easily i moved forward. after three hours i made a stop in puerto morelos, a laid back place which receives less visitors than cancun or the riviera maya south from here. i just wanted to see the ocean and then continue. but as i was having some lunch, some guys set next to me on the bench and one of them invited me to camp at his house where he is living with his girlfriend. a small house but with a lawn big enough to pitch a tent. the kitchen was outside the house and this is where we had dinner and a couple of beers which i bought from the nearby store while my hosts were busy cooking. i guess my host jayo had a couple of drinks before we met since he got pretty drunk after a while. just about the time we sat down in front of my map and he wanted to give me some advise for my route. and soon he dozed off.
i left a note and started early before they got up, to avoid the heat if only for a little while. the road was about the same as the day before and i was looking forward to reach tulum, setting up camp there and going for a swim. the famous ruins of tulum are located before the town if coming from the north and directly at the caribbean sea. just a few hundred meters further is a place called santa fe. it gathered some fame along backpackers for being one of the few budget places along the shore and today is maybe the only one with a campsite.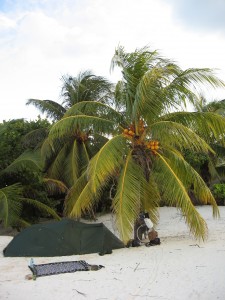 and some steps to the left is the beach.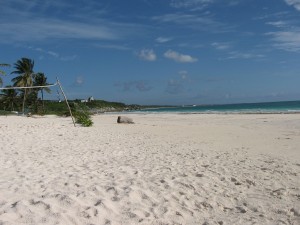 the photo was taken quite early in the morning. it gets a bit busier during the day as this is also the public beach area of tulum. but it is still pre saison here and tourists will not start flocking in until december. this is a perfect place for a rest day. tomorrow i'm off to felipe carrillo puerto and then the lagoon at bacalar before making my way to belize.