the maya ruins in tulum were busy all day and i preferred to spend most of my rest day at the beach. twenty kilometers into the next day i passed muyil and made my first visit to an old maya site. what remained of the settlement were mostly two temples. some of the buildings were hardly recognizable anymore but the main temple looked pretty intact.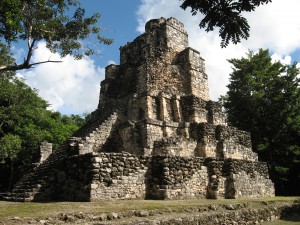 some of the settlements are really remote and the mayas made pathways through the jungle to be used by messengers to communicate between the villages and ports at the sea. many maya sites are still difficult to reach today and makes you wonder why some of them made it into prosperous cities at the time.
this one was right next to the road to felipe carillo puerto and a great way to break a day of cycling in half, to stretch out the legs and see and learn something about the country.