the rest of the day just had views of thick forest on both sides of the road to offer until i reached felipe carrilo puerto. i was thinking of checking into a hotel which i heard of from another cyclist. but prices seem to have doubled since he came through, the rooms were like a sauna and i expected to see something grow out of the mattress any minute. so i decided to go on though it was already getting dark. i doubted this decision after a few kilometers out of town as every path leading off the highway was a driveway with a sign saying "private property, keep out" or "armed security on premises". but then there was a turnoff to a lagoon and fifty meters further a sign which clearly stated that cycling and camping is cool.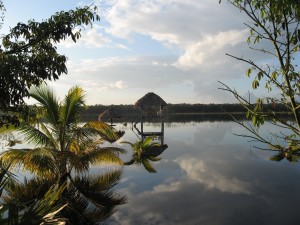 at the lagoon were some women with their kids and one of the boys seemed to be in charge as he told me it was fifty pesos to camp. but as i wanted to give him the money he apologized for his english and said it was only fifteen, which is about a dollar. after i set up camp and washed in the lagoon, i met the four brothers who actually run the place. each one of them a character of his own. the oldest being the calm one, while one was the mexican version of tom jones, the other of sammy davies jr. and the youngest the communicator, though i forgot to mention that neither of them spoke a word of english and i don't speak spanish yet. as in most of these situation the best communication is when you laugh together and your misunderstandings seem less troublesome and you enjoy the moments you actually get a thought across. they offered me to use their kitchen and the food that was around as long as i prepared it myself and in the end let me stay in one of their cabanas.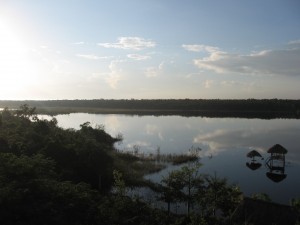 they had a wooden watchtower which i'd already seen in the evening and in the morning i finally made it on top.