after eleven hours we touched ground in cancun, mexico. the entry formalities are quite easy for a citizen of the european union and only to clear customs took me a while longer since my luggage seemed a little less usual. at the baggage conveyor belt i met conrad, another cyclist, just as i was about to take his bike. well, they do look alike packed in a bikebox. i was thinking about cycling into town, but since our flight was delayed it was already dark. a lady told us it would be no problem to get our bikes on a bus. we paid about five dollars extra for the bikes and off we went. conrad met his couchsurfing host at the bus terminal while i got a little lost wandering around town and looking for a hostel. while walking through the streets i could happily certify a prejudice of mine. yes, mexico does dance and sing. it dances in circles while singing or as a couple alone on a stage in a park to the sound of a ghettoblaster, it sings in restaurants, on the streets or else let loudspeakers do the job. it was quite late til i finally checked in at the haina hostel. nothing fancy but with very helpful staff.
my first adventure took me just across the street to an electronic store which also sells guitars. i already looked online at the collection of guitars and since this was supposed to be the best adress in town to buy a guitar, i was a little disappointed. once inside the shop it looked a little more promising. seven or eight guitars looked about right. the first one i picked up was a mahagony fender. it took me a while to tune it while the guy next to me was practising with his vacuum cleaner. it played alright but had some buzz sounds on some frets although the action was already quite high. another guitar had a crack, the other had a crooked neck and in the end there was just an epiphone guitar left. it plays beautifully, has good intonation and the sound is much better than i had expected to find at this price point in cancun. very happy about this. here's a picture (this is already in tulum):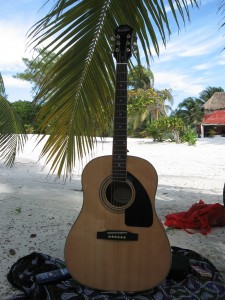 the staff of the hostel helped me to locate a bicycle shop (elite cyclery), to get the right fuel for the cooker and to find a bookstore with a decent selection of maps. otherwise i found cancun not much to my appeal and i was getting a bit restless. i think mostly because i wanted to get to guatemala and start a spanish course. there's just too many conversations which fall short because of my lack of spanish skills. it was time to pack up. the next few days i will ride along the riviera maya until tulum.