The Setúbal península lies just south of Lisbon. We had our first peek at the Atlantic in the afternoon before setting up camp for the first time. The nights were still very cold and it didn't help that I forgot to buy alcohol for our stove and so we had to do with some greasy lukewarm meal in the restaurant of the campground.
The next day we continued along the coast, bought alcohol in the pharmacy and took advantage of the break to drink a coffee in a busy cafe during lunch hour while it was raining outside. The coffee in Portugal is good and cheap. This might be a reason it took us sometime to find a coffee filter as people are less inclined to prepare their own coffee and so there is less demand in filters than in coffee shops.
Shortly after we had our first real test of our navigation system. I had relied on paper maps for all my previous travels but am now equipped with a smartphone and an assortment of apps. Not many apps let you plan a route offline and I started with the well-known maps.me
It has a lot of details and is easy to use but it might lead you to paths that are less suited for a loaded touring bike. After some pushing through sand we got to a path that was mostly rideable and it continued to be a mixed bag. Some frustrating moments alternated with blissful cycling through the woods.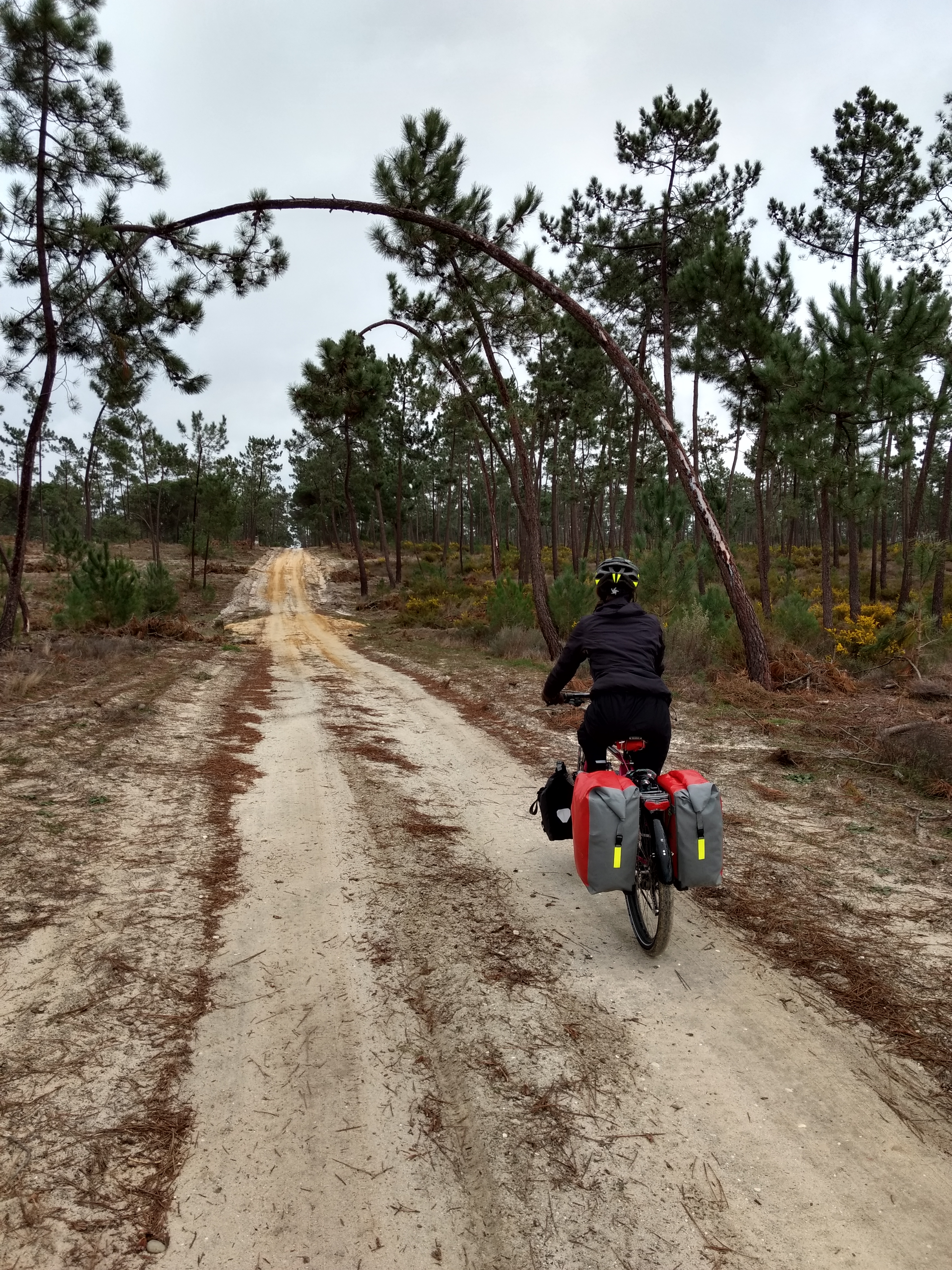 On our way to Laguna de Albufeira we found a spot we liked and decided to wild camp.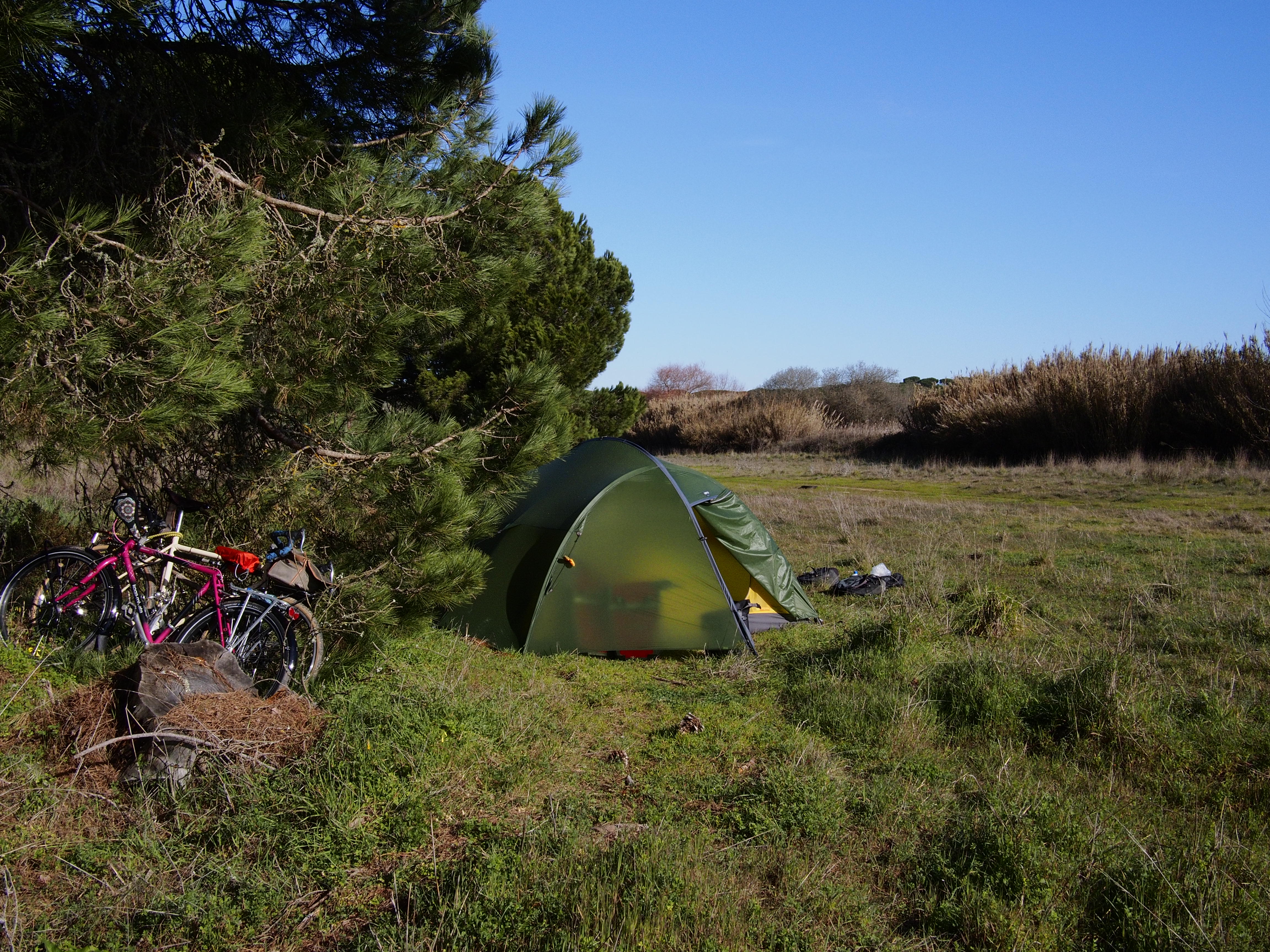 We had some serious climbing to do until we reached the coast again just short of Sesimbra.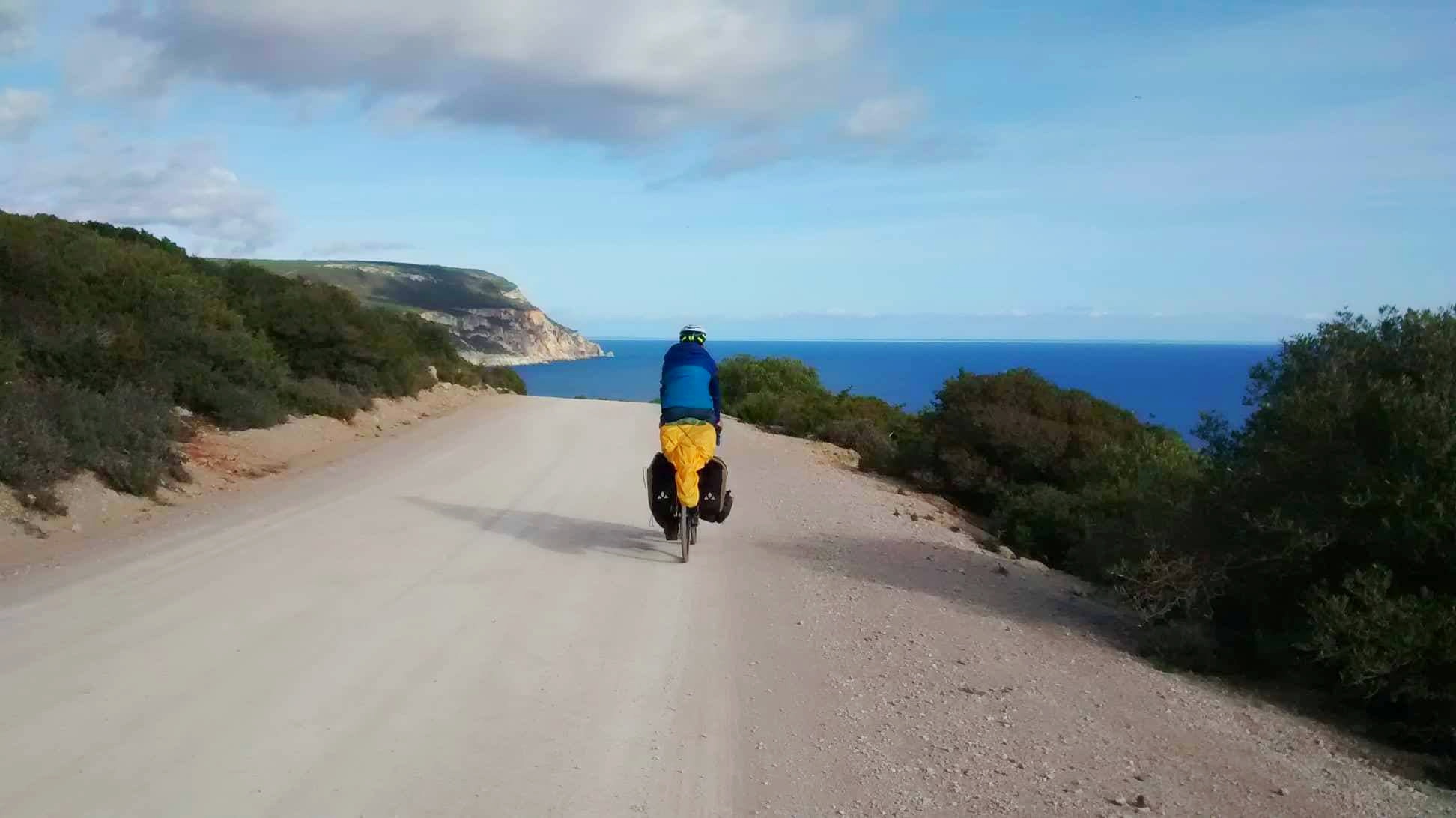 In Setúbal we stayed with Margareta from Belgium whom we had contacted through couchsurfing.
It was a lovely experience and we stayed an extra day with her and Jacinto. We were treated to a Curry the first night and had a walk through the historic center the following day and visited the market hall.
In the evening Jacinto was introducing us to Portuguese music. Which he was doing with such enthusiasm that I forgot the rather long search in the afternoon for a new crankset for Andrea's bicycle to equip it with some lower gears for climbing. Thank you Margareta & Jacinto for a wonderful stay!
The next morning started with a boat ride over the Rio Sado. For lunch we stopped at Carvalhal where we got a box full of treats from the pastelería.
We passed on the offer to visit the local rice museum but took a path through the rice paddies where a lot of birds had their home or stopped for the winter. A lot of storks among them and their huge nests, now an unfamiliar sight in Germany, are still present here. The path was going along the dunes and when it was getting close to the evening, we made the extra effort to push the bike uphill through the sand to enjoy this view.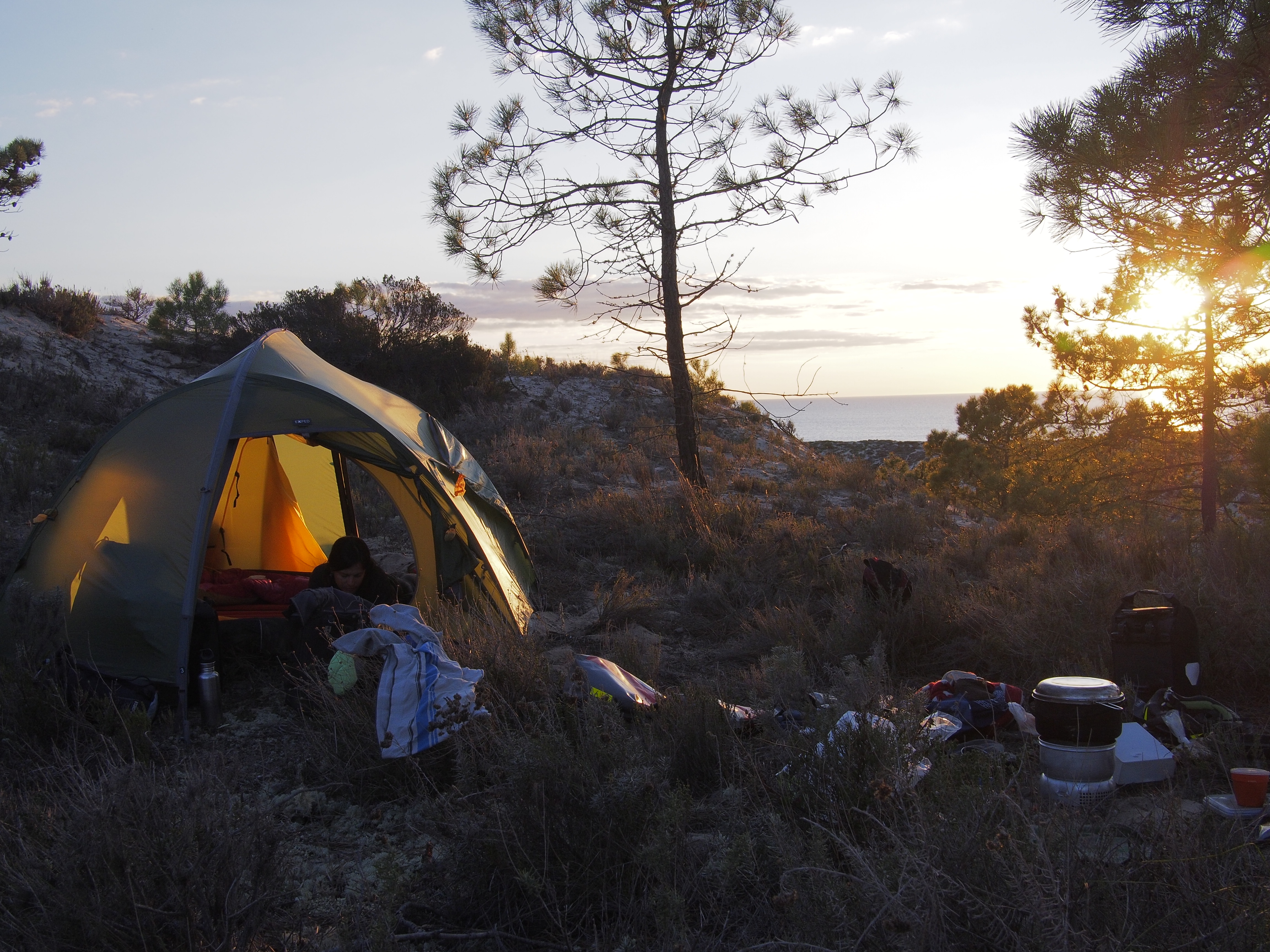 The sunset was spectacular as well.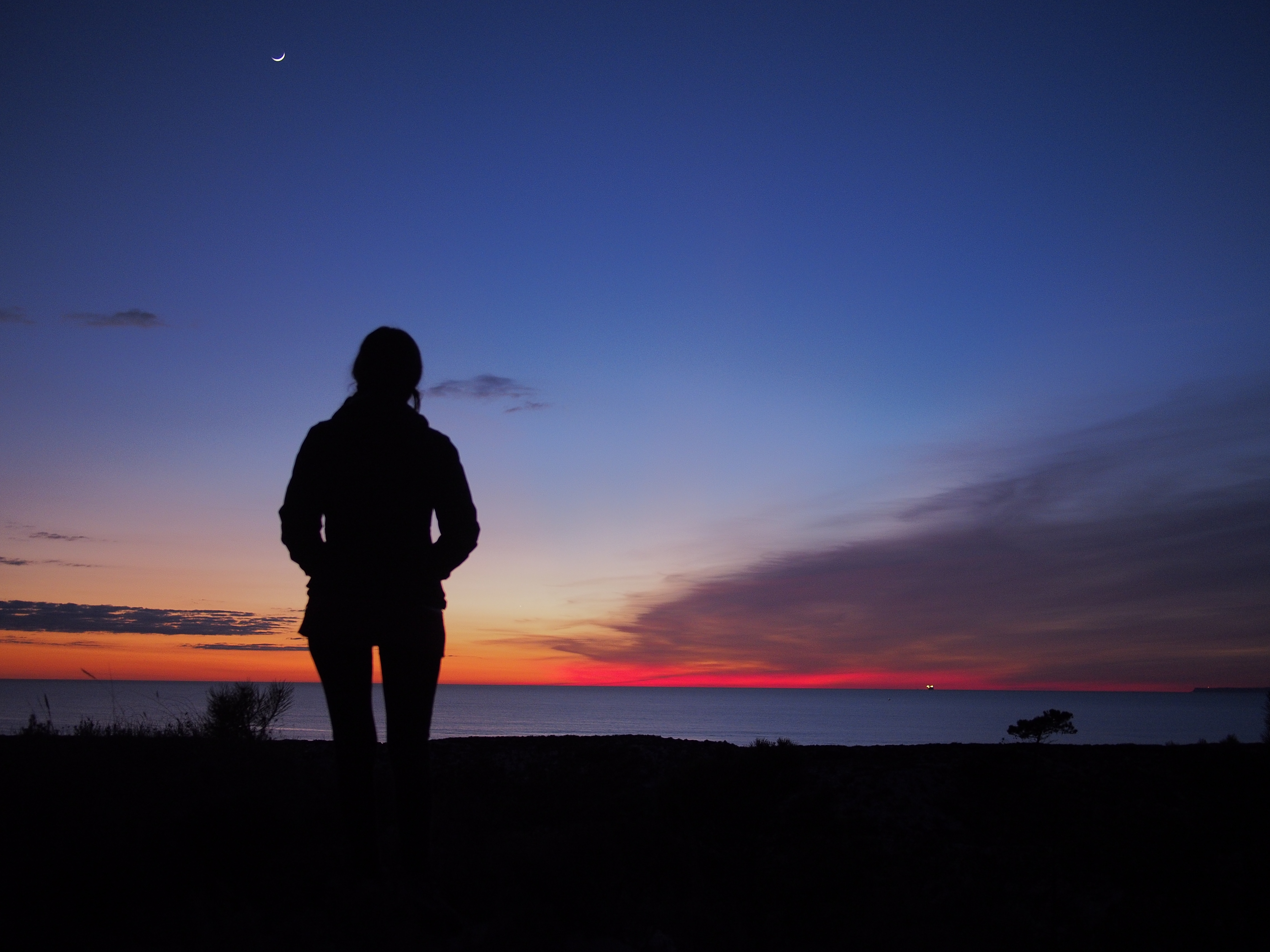 Around Sines, we had to cross an industrial park before taking the road along Praia de Sao Torpes.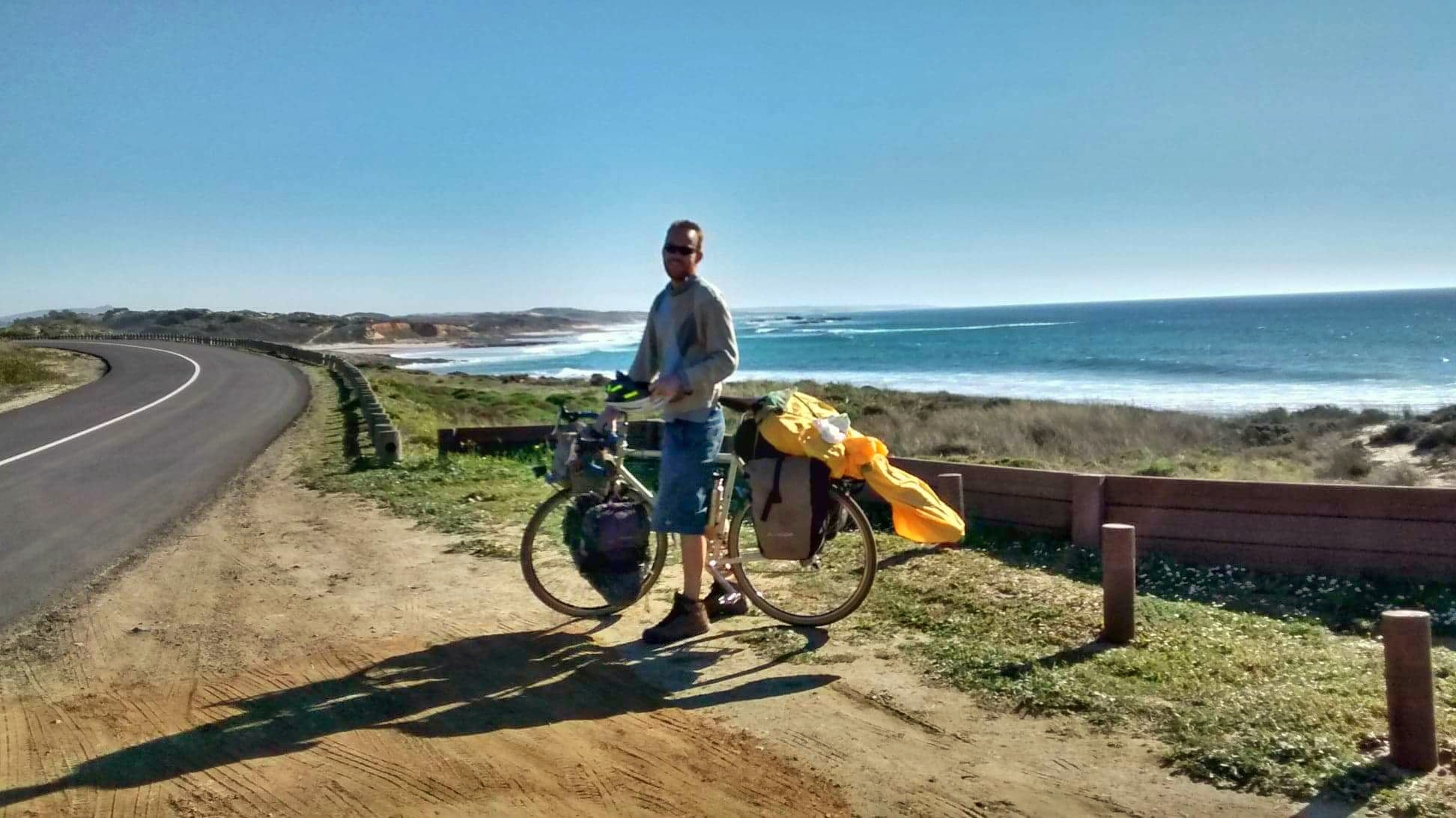 In Vila Nova de Mílfontes we took our first stroll on the beach.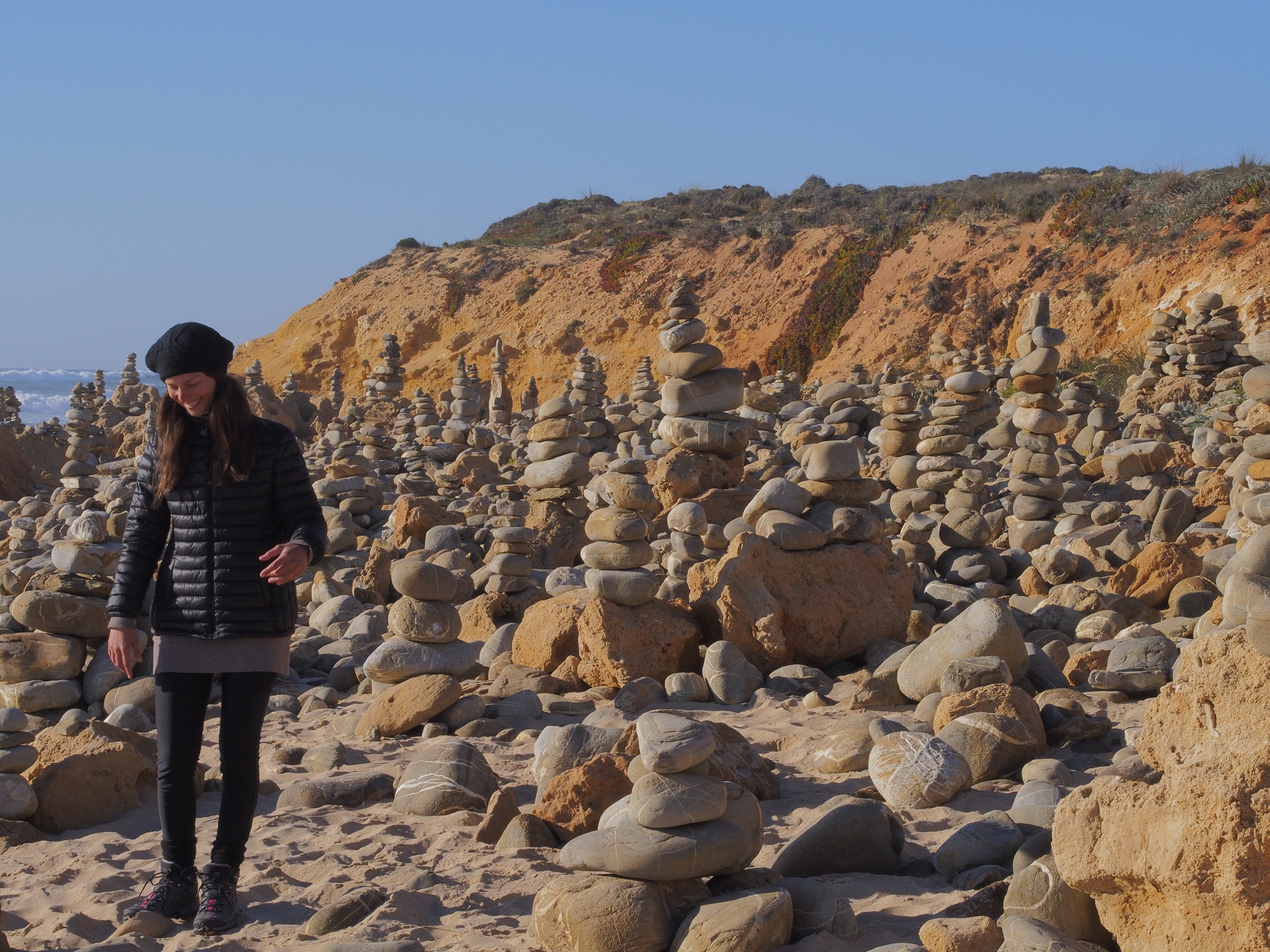 In Zambujeira do mar we stayed an extra day before passing Odeceixe. The forecast began to look really grim and we decided to look for accommodation in Carrapateira. We had another lovely stretch through woodlands when it started to rain and would continue until we reached our guest house. The rain gear held up well but we were still glad to get out of our cycling cloth and to take a hot shower. The weather stayed like this for some time and we changed our travel plans slightly and decided to weather the storm with some company in hostels in Lagos and Faro.