We had received a recommendation for a hostel which is quickly becoming the cyclist hangout in town: the Huayra Sanipi. It turned out to be a stroke of luck and soon all plans to reach Mendoza until christmas were forgotton.
Five kilometers from town starts a trek to a series of waterfalls along a steep valley. The idea was to visit some of them, but in the end, when we reached a pool and the sun was blazing down on us, we decided to have a swim instead.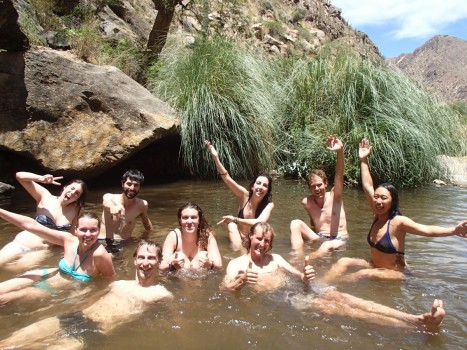 Once again i met fellow cyclists Maggie and Bryan, whom i met now i think for the fourth time during this trip. You can read Maggie's account of the time during christmas here.
Cafayate is famous for its wine. Some of the bodegas are within walking distance from the hostel and so we went to some tastings.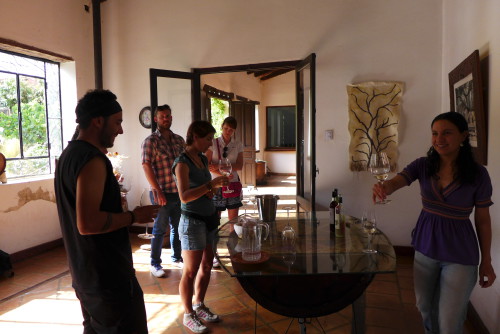 'Nanny' is one of the winegrowers who produces with strict ecological norms. Their patio, which we visited during the short tour through the premises, is one of the nicest in town.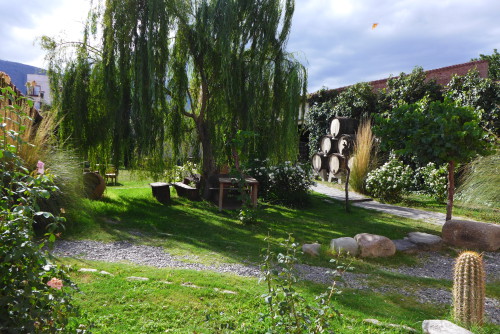 The hostel displays the spirit of its guests, who left all sorts of paintings and notes on the walls.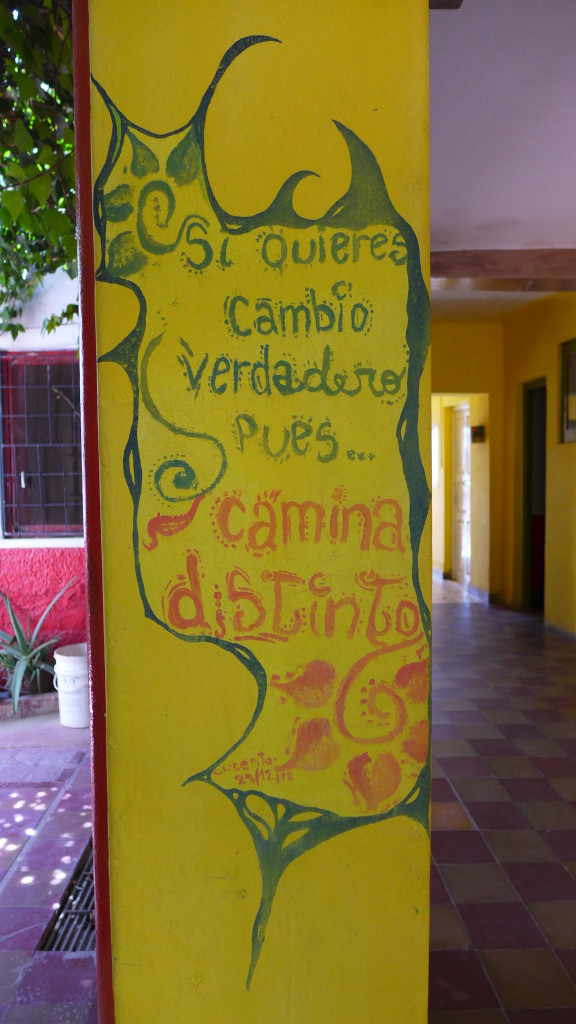 Camping under the vines was as good as it gets. The first grapes were getting ripe during our stay, and especially bryan was lured out of his hammock from time to time to grab some.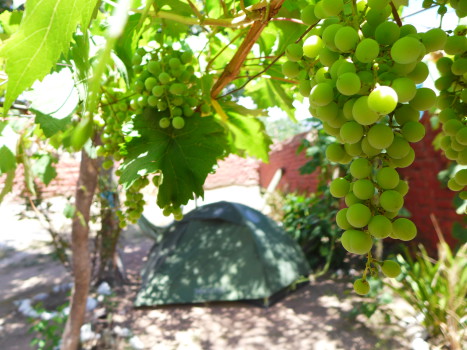 Goat cheese became a favourite for lunchtime in northern Argentina and when we heard about a goat farm not far from town, it was just a matter of time until we paid them a visit to taste their cheese. A small tour explained the process of making cheese and took us through their farm, before tasting some variations with different herbs and we left happily with a piece of flavoured goat cheese in our bags.
One of the best things about the Huayra was the communal dinners every evening, or rather every night, as it would hardly start anytime before ten. Especially on our first evening this was a challenge as sleepiness and hunger were battling against each other. But after a day or two it became normal. And with the adjustment to local habits, mainly taking a siesta in the afternoon, we were soon embracing this way of life (photo by Alvaro).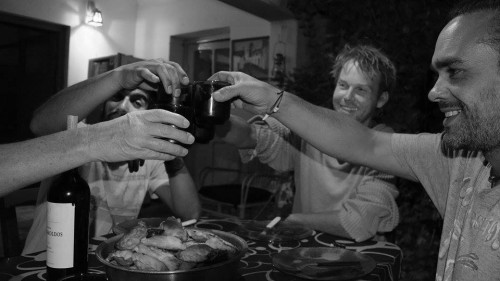 Here with Christian and Pepo, the two owners, who are investing heart and soul into this place. On one of these occasions, rather at the beginning of our stay, i foolheartedly agreed to prepare the next dinner. That night we were only eight people sharing the dinner table, but towards christmas, more and more people arrived, and the next evening, our number had doubled. So i was in the kitchen for four hours preparing 'Käsespätzle', a dish i had prepared before but never from scratch with making the dough for the 'pasta' myself. Luckily, a girl from south tyrol helped out with her experience without which this would have certainly ended in disaster. It turned out great, the wood fired oven in the garden adding a flavour that went well with this hearty dish, and even though it looked like you could feed a peloton of cyclists with it, there was just enough for everybody.
One evening we went out to the 'el ombu' restaurant, where Andrea, a talented singer from Rosario and also guest of the hostel, was playing a concert.
We arrived with everybody from the hostel during the concert, almost doubled the number of the audience and hopefully gave some moral support.
For christmas we prepared an asado, the argentinian version of a barbeque, which is never just about the food but also a social event. In a country famous for its meat, we also put sufficient veggies on the grill.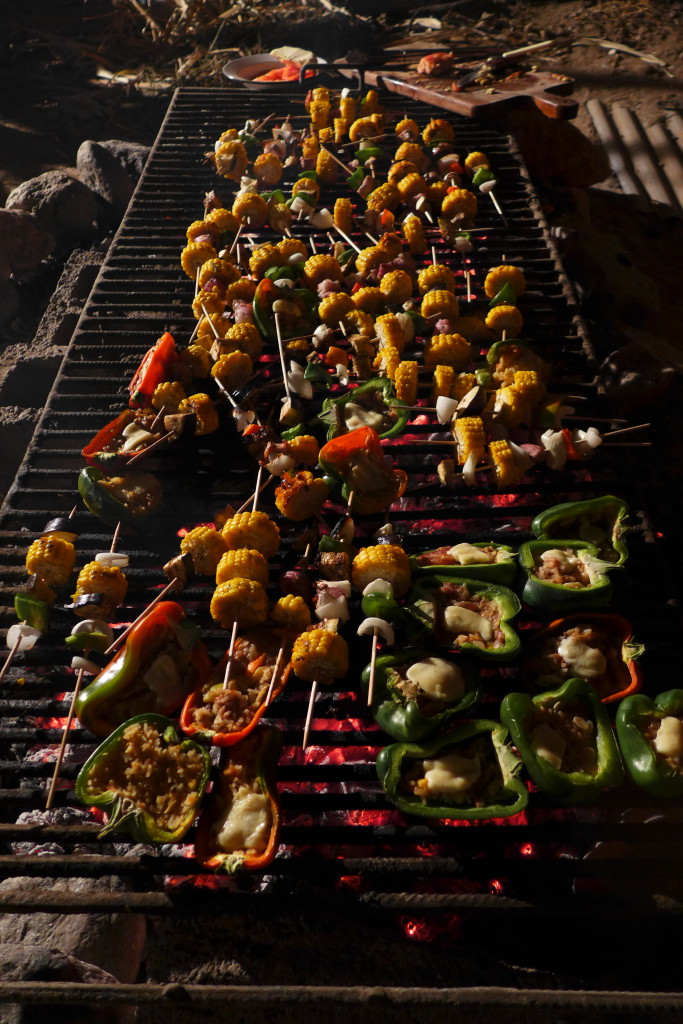 The atospehere was like "en casa". The temperatures stayed pleasant throughout the night and so we had, also because there was not enough room inside as our number had grown to around thirty, the dinner on christmas eve in the garden.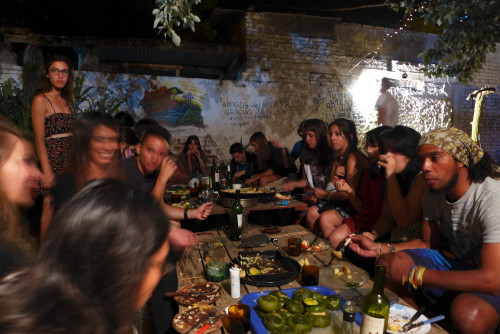 After which Pepo Clause was arriving with the gifts.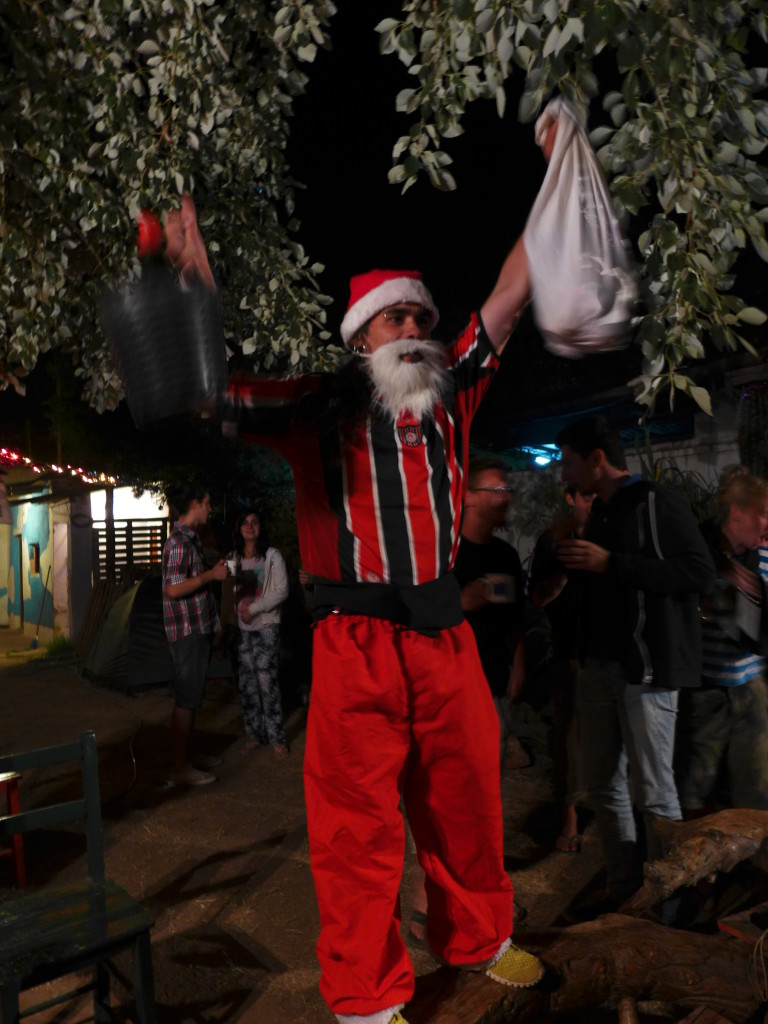 And after so much work, he stayed a while to have a proper rest with a small bottle of christmas spirit.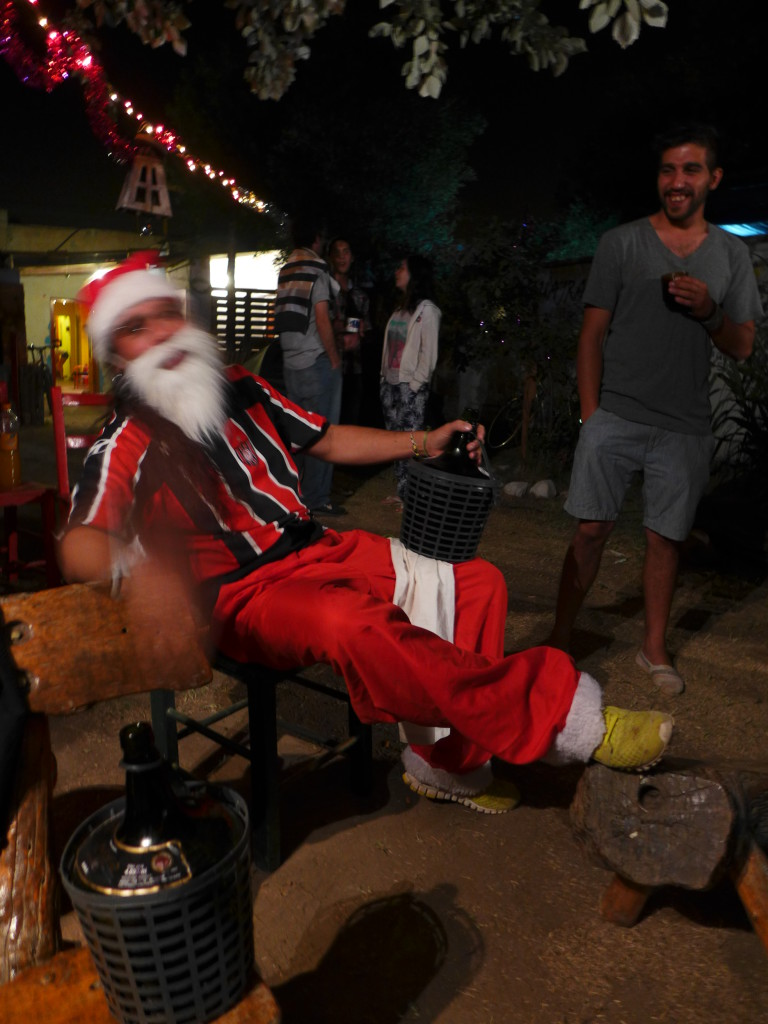 After christmas most people left town. Here a last goodbye with most members of the family.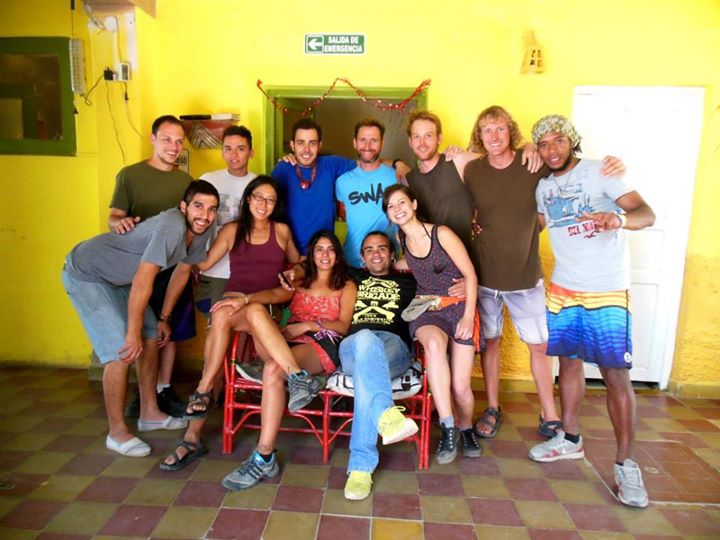 And we also got ourselves ready to leave that cozy place and say our goodbyes to people with whom we had shared an amazing time.