Earth hour receives a lot of valid criticism. I'm pretty sure it wasn't created solely for the benefit that one hour without the use of electricity would have on our planet. It will just have an effect if people change their behavior after this hour in the long run. In Xela the lights of the central park were switched off and we met an hour earlier with around a hundred cyclist to go for a ride through the city. We met at seven thirty at the municipal theatre where only last week we witnessed the Jazz Festival.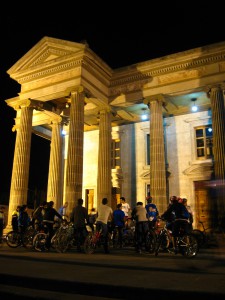 The route was explained to the riders as well as the hope expressed that Xela one day might turn into a bicycle friendly city.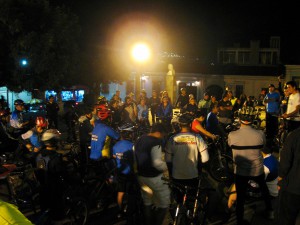 We even had a guy from the municipal traffic police on his scooter with us, who blocked off the street as we started and held back the traffic on junctions we crossed, so that we felt quite safe and could ride without need to halt at traffic lights. Thus even the kids in our group could enjoy the ride and most car drivers took the involuntary delay well and some people along the streets waved at us or started applauding when we passed.
Starting at eight thirty, there were no lights in the "Parque a Centro America" and artists were performing in different locations without the aid of electric amplification. The concert was illuminated with candles but around the square was still enough light coming from the buildings around the parque to keep the night away.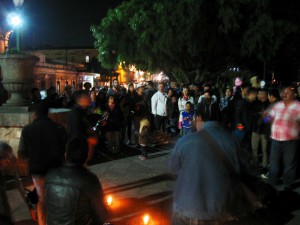 The music was excellent and soon the empty space in front of the musicians was filled with people dancing. A really nice evening that changed the atmosphere of Xela. Although i didn't feel alarmed after nightfall, there usually was not a crowd to be seen like this after dark: children happily chewing away on some candy, students from the university handing out glow sticks and grandma taking grandpa to the dancefloor.