The bus arrived sometime in the evening and i spent the rest of the night looking for an accommodation, as the school i lived in the last time didn't have any free rooms available. It took a while longer as a couple of places i visited were either full, too expensive or had no secure place for the bicycle to offer. The lady of one of the guesthouses was kind enough, after she had no room to offer me herself, to walk me to a nearby place of a friend of hers and on the way i was glad to see that the two weeks away from spanish lessons were a rather welcome break and my mind was able to use what  i had learned now more freely. On my second day there i was following some stairs and found myself on the roof terrace that from then on became my regular spot to study or play the guitar.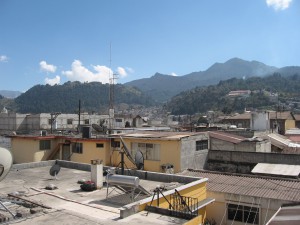 I continued with my spanish classes and had some time to repeat the grammar of my past classes. One day some students stopped by at our school and invited us for a trip to a nearby cooperative of mayan women who weave cloths, dresses and accessories which they sell in their shop. The project of the students was to write a business plan and to help the cooperative with their sales. We were invited as a sort of test audience of target customers to see what products we liked and what we would like to see improved. As part of the trip there was also a demonstration of the traditional weaving process,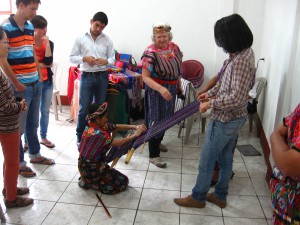 as well as a tour through the history of indigenous clothing culture which two of our older students were more than happy to pose for as models.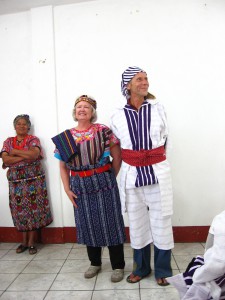 The lady on the left is one of the women who helped starting the cooperative around forty years ago.
The first time i stayed in Xela, the soccer league had a break but now the first games with the Superchivos, Xela's soccer team, were on again and so we checked out the atmosphere of a latin american stadium.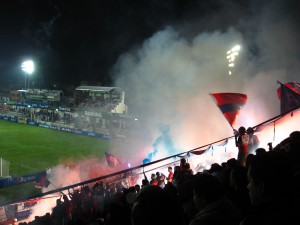 Fireworks and bengal lights are still allowed in the stadiums and the "fanaticos" were making good use of them. The morale was a bit low after an "auto goal" and a 0:2 deficit, but was getting better after the Superchivos leveled the score and had a couple of great chances to score another goal within the last ten minutes of the game. In the end the tie seemed pretty good to us, but the hardcore fans were still a bit disappointed and i could have picked up enough curse words in spanish to last me for years.