It was quite difficult to find the place as everybody in town seemed to know the organization, but not many its current location. As they moved quarters a couple of times within recent years, i received five different directions before being set on the right path. I was greeted by the three girls volunteering at Maya Pedal almost as i was an expected guest and soon after was walking through the yard among the newly constructed bici-maquinas. Here the newest addition: the washing machine.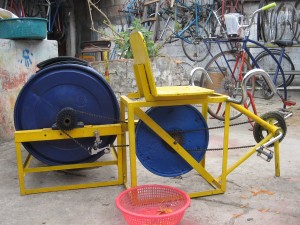 The workshop has most of the tools to transform a pile of old parts into a bicycle again or into pedal powered machines for daily uses, like blenders or grinders.
The day i arrived turned out to be a special day for Emma and Diana, as they planned to slaughter a chicken for the first time in their lifes. It was a rather quiet affair, at least on the side from the chickens. But the girls grew rather upset with the knife in their hands and it once being on the throat of the animal realizing, that it is more difficult to cut than an onion. But after some crying and some help from the neighbours, the two chickens were soon bled dry before being put into hot water to make it easier to pluck the feathers.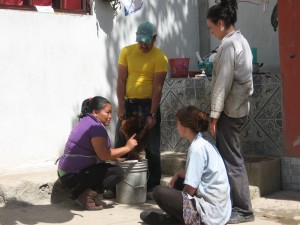 With Mario, the guy running Maya Pedal, i rode to the city the next day to buy some tools for the workshop. Later i ended up helping at a nearby village to shred the corn before it was fed to the chickens.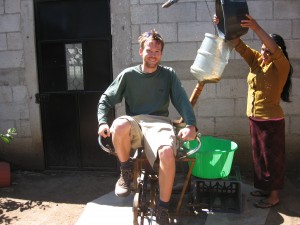 The machine is doing its work since more than twelve years without the need of much maintainance, a time during which Mario was still a volunteer himself. He invited me to his house for lunch before showing me the newly aquired site where the organization will find a new home this year. It is considerably bigger than the current one and comes even with spaces for camping for the occasinaly passing cyclist. The bulding on the right will host the office, kitchen, bathrooms and accommodations for the volunteers.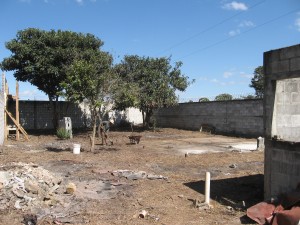 If you feel like helping them with a donation or some spare parts or tools you are willing to send to Guatemala you can contact me through the contact page or directly contact maya pedal through their website.