It was a big change coming from the small NGO Maya Pedal and arriving in ciudad Antigua, probably the most touristic town in Guatemala. I read about a place to camp pretty much in the centre of the city run by the tourist police. But before they let me in, i had to make a copy of my passport and answer a couple of questions as it seemed they were pretty annoyed by people taking advantage of the free camping and liked to return, though it is limited to a one-time stay for five days. Many overlanders on their way through central america stop here and one meets mostly long-term travellers. My neighbour for example was a guy from Germany who drove a yellow Vespa from the post service all the way down from Alaska and intended to continue to the south of Chile.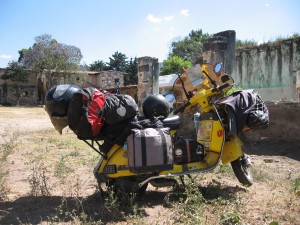 In the evening, i just set up camp and walked over to the nearby market to grab a bite to eat. The next day i explored the famous old part of the town with its cobble-stone streets and nicely restored colonial buildings (the archway being the arco the Santa Catalina),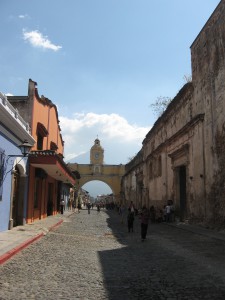 and spend some time around the central plaza,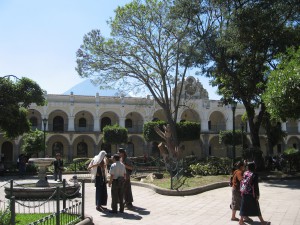 which is lined with historic buildings, here the Palacio del Noble Ayuntamiento, today home of the city government.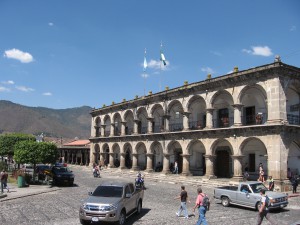 Most of the churches of Antigua lie in ruins, result of the heavy earthquake in 1773, which led authorities to move the capital to a safer location away from the central american volcanic arc to its current location, Guatemala City. The name of the old capital therefor changed to "la antigua guatemala" (the old guatemala) or simply Antigua.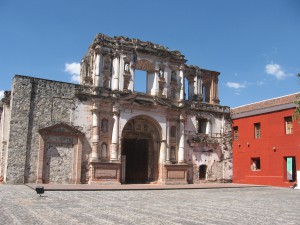 The historic part of town is really small and i could understand why people would mention first how touristy the city is before telling anything else about it, as about half of the people are tourists around the central square. There are some patios which are beautiful decorated and have plants and flowers like in a botanical garden. tTey mostly belong to restaurants and hotels or jewelry stores, but if you move a little bit further from the center, there are the usual trades around the market as in any other guatemalan city. I still thought after two days that the prettiness of the town alone wouldn't hold me for long and so i made plans to leave the next day and find a route to bypass Guatemala City in a big circle to the south.