Livingston is a very enjoyable place. I ended up at the iguana, like most backpackers. It has a wonderful garden with a restaurant and bar and some people just get stuck there for days on end.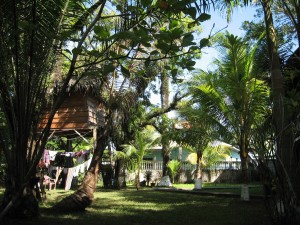 Some of the people had been on a stretch of partying for more than a week and showed some signs of fatigue during the day but at night there still was dancing, a massive beer bong came into play and soon after some climbing on top of the beams of the restaurant. It's a small enough place, so everybody knows everyone and there is a good vibe. Still i left soon, as my tent was not far off the bar and i was still in a different sleep pattern from the days of cycling. Again it was easy to arrange for a ride to rio dulce by boat, there is no road leaving Livingston. The price for the bike was again negotiated with the capitano directly before departure. Especially the first few kilometers of the ride are amazing, as there are steep hills to the left an right with rich vegetation and various birds singing or just showing off their beautiful feathering. The second half through el golfete is rather like a lake before one reaches rio dulce where the river narrows down again before the lago izabel. On its shores stands the castillo de san felipe de lara, which protected it from the buccaneers coming from the sea and thus made it once a safe haven for the spanish fleet.
On the boat were two australian girls from the guesthouse in Livingston and together with them and a german-guatemalan couple we took another boat to a guesthouse someway downriver. You could see some jetty or terrace from the boat along the ride indicating such places. Most of them cannot be seen from the water and after five minutes on a sidestream we were surrounded by jungle. The surrounding area wasn't cleared and so the bungalows and other huts looked like they would soon be overgrown be the thick green. The next day the two australian girls went on a day trip to a waterfall called "aqua calientes" and i made the same trip but on the bike. A great ride and even better refreshment after reaching the cascadas calientes.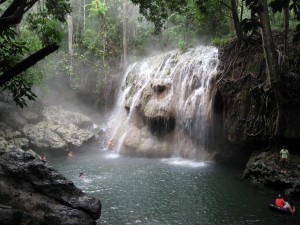 What makes this place so popular is the temperature of the water. While the pond below the waterfall is rather cold, the waterfall itself is about as warm as most people would have their shower after coming home on a cold winter evening. Plus, the water has quite some force, and directly below the fall it feels like getting a massage. While the girls were taking a bus back to rio dulce, i set up camp at the nearby restaurant after having one last swim and dive below the waterfall.