After Hopkins i decided on a small side trip off the southern highway towards Placencia. Along a small strip of land that became highly popular with the better off belizean people as well as people from abroad looking for a property closer to the sun. Most of the buildings are just ridiculous, rather a palace than a house with high towers and viewing platforms to have a better view on both, the inlet and the sea. most of the construction is still in progress but it looked already like some disneyland and i felt i had missed a border crossing at some point so different it was from the rest of Belize. At least there was a nice jetty to have a break with an unspoilt view.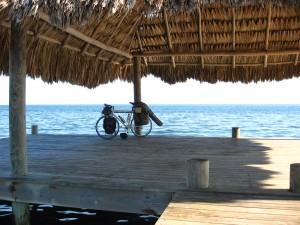 Placencia is a typical place catering for backpackers, one of the few in belize. big colourful signs advertising tours and accommodation but mostly western food: pancakes and pizza and the like. After the ride around disneyland i wanted to get back to reality rather sooner than later and took the boat to mango creek just as the sun was about to set.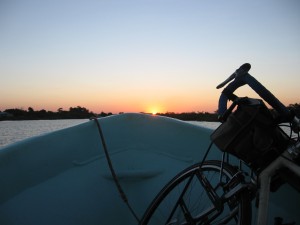 What a refreshment. I found a nice place to stay, a nice restaurant and later watched a game of basketball on the main square.
It was a long day of cycling to Punta Gorda the next day with not much exciting happening. Though the road is nice enough and as Punta Gorda is the end of the road in Belize, and there is no connection with Guatemala over land, the traffic is light and it makes for an enjoyable ride. Most travellers just pass through on their way to or from Guatemala or Honduras. But it is a laid-back place and i was glad to spend an extra day as i wanted to be sure that it is possible to get the bike on the small boat towards Livingston. Usually you buy your ticket directly before departure, but there is an office which sells tickets in advandce. The lady there wasn't sure about the bike but was helpful and i agreed to stop by an hour before departure the next day. In the end i paid five dollars extra and it was no trouble at all. The boat ride itself was quite enjoyable and it only took us about an hour to arrive in Guatemala.
Belize really surprised me. It is quite diverse, with people as in landscapes. The mennonites, the chinese, the garifuna make for a strange mix of people walking up and down the streets and the sudden change in scenery, once you enter on the hummingbird hwy, is more than i expected from a country with such a small size compared to its neighbours. Definitely a place to come back to as there were many places i just had a glimpse of or only heard about. I could have easily spent a couple of weeks here but my goal to learn spanish remained stronger.