It was a pleasant ride to El Estor but there the asphalt ended and it was dirt roads from then on. But the challenging part was yet to come. From Panzos the road was mingled with rocks sticking out and it was a tough time going uphill in the heat. It took me the whole afternoon to make that climb and as there were no places to eat or to sleep, i set up camp in an old stone quarry. There was a nice terrace above it with a beautiful view of the valley and the storm that, for the time being, was held back by the next mountain ridge.
Sometime during the night it started to rain and would continue to do so for the next hours. The road was getting slippery and no later than the downhill started, it was a mess. I took it slowly with a couple of stops along the way to preserve my concentration, just to find out that the downhill part ended at a bridge and, after crossing the river, the road went uphill again. After another heavy climb and my legs being nearly exhausted, i made a break just as the rain was about to stop and the sun came forth for the first time that day. So during the afternoon there were some great views over the valleys which before had been covered in mist.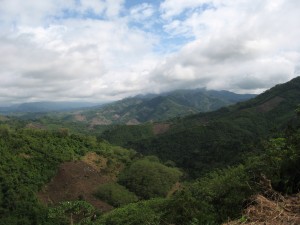 From the place i camped the night before it is just about 50 kilometers to Lanquin, but still it took me the whole day and i arrived at the El Retiro guesthouse as it was already dark. The first good news was that they had a veggie buffet, ALL YOU CAN EAT. I had just time to set up camp and take a shower before it was about to start.