jens and i were looking for a campsite, but the cheapest was not much savings compared to the price of a hostel. especially when we get the low emission discount at the yha which in this case has a direct view of lake wanaka and the surrounding mountains. after sorting out our luggage and our bikes we made a small trip to the supermarket. we came back just in time to welcome laurence who made it despite the heavy wind. yet he had to push his bike sometimes even on the flat road. but he refused to accept a lift which was offered to him three times. churo and sarah, we found out later, turned back after falling off their bikes twice and found a rather luxurious place to stay. while still heading for wanaka, they were invited by a kiwi to stay at his house but turned it down at first. after changing their minds they couldn't find that person anymore but a house which was unlocked and so they just let themselves in.
the next day i got a lift to the start of the rob roy's glacier track. past waterfalls…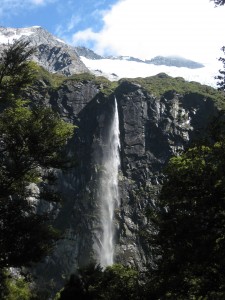 until the viewpoint at the end of the track with the glacier which once filled the whole valley.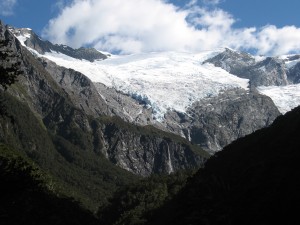 the next day i finally had a rest day while the others moved on to a nearby camping place to do some rock climbing . over the crown range, one of the highest sealed roads in new zealand, and with a stop in arrowtown i continued to queenstown the following day.