after cycling out of christchurch i realized that i forgot my maps in town. as i was already too far to think about turning back i got instructions from a local which were easy enough to follow without a map. it made me realize how much i depend on maps. not only for the obvious orientation but as a token of security and i remembered the time when i was cycling from spain with nothing than a small map of europe on a handkerchief.
the inland route is a much better option to travel south then highway one. not only is there less traffic but the scenery has more to offer. like here around the rakaia gorge.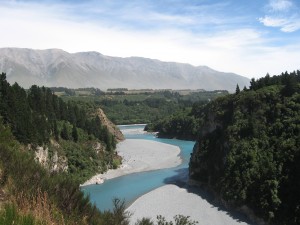 there are plenty of opportunities to pitch a tent for a night. most picnic areas have a basic toilet and there is always a river nearby to get water. a heavy storm passed while i stayed at a rest area near alford forest and the next morning there was snow lying on the side of the road and on top of mount somers.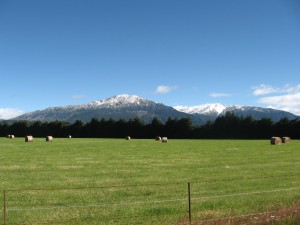 on saturday i arrived in geraldine in time for the farmers market. most products seemed a bit overpriced but the live music made for a good atmosphere. at the supermarket i met laurence from wales, jens from switzerland, sarah and churo from spain. after having lunch together i joined their group and it was fun to travel with such a big group. we had a long day of cycling until we found a place for the night which suited everybody at the opuha river crossing. over burkes pass we continued to lake tekapo and when we turned into the canal route, the heavy side winds now became a proper tailwind which pushed us towards lake pukaki where we found a wonderful camp spot where we had our dinner after a very short swim in the rather cold water.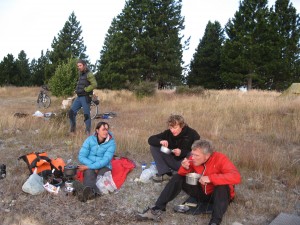 and all the time we had this view of mount cook.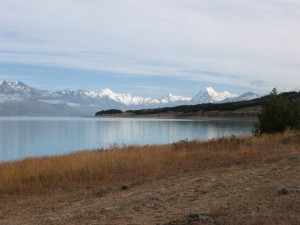 the next morning, still with a tailwind, the 30 kilometers to omarama where flying by. but from there the wind turned again until the climb started towards the lindis pass. a rather barren but beautiful area.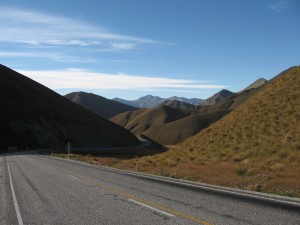 jens and i met again on the pass and started the descent. we found a nice spot at the lindis river and enjoyed a swim in the evening. we left some signs on the side of the road, a bicycle tube wrapped around the guardrail and signs with rocks and branches in case any of the others might see it. laurence passed that point somewhere in the evening but didn't see it while sarah and churo made it over the pass the next day. we eventually met again in wanaka.