all the way back towards picton along the queen charlotte drive, one has still the view of the sounds. picton is a very small town and which gets its importance because of the ferry to wellington that departs here. the small place gets quiet crowded before the departure or after the arrival of a ferry and the town seems to overflow with people and vehicles.
i got some supplies and started along the coastal road until whatamango bay where i stayed the night. i knew the road to come was gonna be a tough one but it still feels damn hard everytime a heavy climb comes in the morning while your muscles are still thinking about starting their warm up program. on the climb i met to kiwis from wellington which made a short break. they just came from the ferry and were on a four day trip to the south. it is hard to imagine for me to see myself travelling for what seems to me now as such a short period of time. but when you don't think in those terms then, while it is still being a big difference, for that very day we cycled the same road, the same climbs and later both rolled into robyn hood bay to set up camp.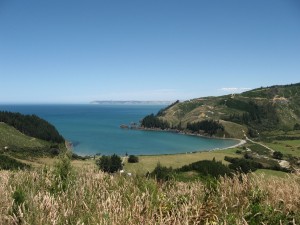 because of the windy gravel road and steep climbs, this is not much of a holiday destination for the masses and the camping doesn't need a lot of regulations. i guess the majority appreciates this and wants to keep it that way by not messing it up and leave the place as they found it. the next day started with another heavy climb but once on top it is amazing how abruptly the land changes. the cliffs give way to a plain without even the slightest hill and the road leads through the vineyards the last kilometers into blenheim.