once again i stayed at a d.o.c. campsite, this time at pelorus bridge. a wonderful campsite at a river surrounded by forest with several walking tracks in the area. on top of that it has a kitchen and hot showers. i met another cyclist, guillaume from france. we both cooked two meals each and had a whole table full of food to share for dinner.
the next day, i turned off the highway and followed the road along the kenepuru sound. most campsites were pretty crowded and too close to the road for my taste. but another not marked turnoff ended in a place which someone had used as a campspot before. there was a table with chairs, a path to a nearby stream to get water and even coat hooks on the tree next to the table. a small path led to another clearing with just enough space to park the bike and pitch a tent. from there it was only a couple of steps to the beach.
i continued to kenepuru heads almost at the end of the sealed road. i pitched the tent and left most of my stuff to start my day trip towards mount stokes. with 1200 meters in altitude the highest elevation in the area. the road soon turned into gravel and soon after that the climb started. the road leads about halfway up before the 5 hour return track starts. there's hardly any views while climbing through the forest but once you're on top the sounds look stunning.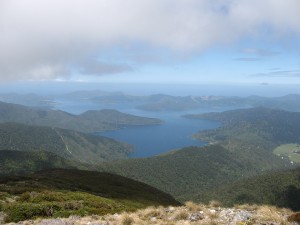 there's a plateau on top with a 360 degree view and nothing but green hills and water. back on the campground i met stefan, another german traveller, who in his kindness provided me with some fruit as i was running low on food. and i didn't have to pay the camp fee as the  the campsite host is a cyclist too.