after blenheim the scenery changes again with rolling bare hills while the road leads over the dashwood pass. i took the turnoff to marfells beach, another d.o.c campsite and the first one which i left again after i had a look around. the place was completely taken over by locals who seemed to want to keep it that way and the small strip of land between the ocean and the hills seemed a little too cramped. despite headwind i kept moving as i had a recommendation for a place to stay twenty kilometers down the road. you can't really miss the turnoff…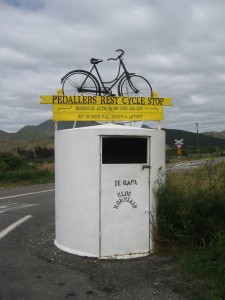 15 years ago a dutch cycling couple asked the owners if they could pitch their tent on their property for the night. they agreed and even extended the invitation. a house which was built to accommodate the seasonal workers who sheered the sheep was not used anymore as the sheep are collected by truck nowadays to get their fleece taking off elsewhere. after that initial meeting with the world of cycle touring they made a little business out of it which became quiet successful especially in the early years, when the new zealand dollar was quiet affordable and around 400 cyclist spend at least one night at 'pedaller's rest' in its first year. there are still a lot of cyclists in new zealand but maybe a little less than fifteen years ago and i had the whole house to myself. company would have been nice but having a whole house to myself was alright as well. in the evening the wind was getting stronger and it started to rain a little and i was getting into the mood for my first rest day in 2012. the morning on the next day would have been alright for cycling but the storm in the afternoon made 'my' little house even more comfortable.
there was more head wind towards kaikoura the next day. i met another kiwi and a canadian cyclist on the way and the wind finally died down in the second half of the day and all of a sudden it felt like having a massive tailwind. in kaikoura i had a chat with the canadian cyclist when i saw two familiar faces, the mother- daughter duo whom i met at bob's place. it was the last day of their cycle journey before returning to wellington and evenually back home.
since i had only one rest day and got motivated by the challenging parts on the way, i was a couple of days ahead the 'arriving-in-christchurch-for-the-buskers-festival' plan. so i took it slow and hopped from beach to beach in the hurunui district which has a couple of campgrounds for only a fiver a night. especially the one at amberley beach is highly recommended. amberley beach is only five kilometers from the amberley township. so it was easy to get more supplies when i decided to stay longer.