i stayed one night in christchurch before exploring the nearby banks peninsula. it is always a hazzle to get out of a bigger city and this time i not only wanted to get out but get out at a certain point, the start of the little river rail trail. like australia, new zealand converted some disused railways into cycling paths. these are mostly unsealed but not too bad to ride on a touring bike. the little river rail trail isn't complete and only sections are open. here the original train station at motukarara, the start of the second half of the trail.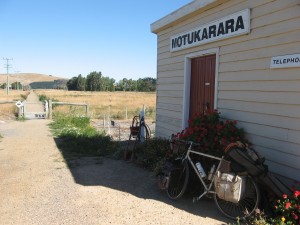 three kilometers before little river is a  picnic area with no signs prohibiting camping which in new zealand mostly means it's cool to camp and so i wasn't alone as some other campers stayed the night before exploring the peninsula. a german couple invited me for breakfast the next morning. i already had mine but felt like a second one which gave me enough energy for the following ride to the hilltop. i stopped at the info center at the little river railway station on my way to get a detailed map of the area before starting the ascent. at hilltop the road splits, the main road leading downhill and along the akaroa harbour, while the summit road goes along the mountain ridge before descending towards akaroa while providing great views of the bay along its way.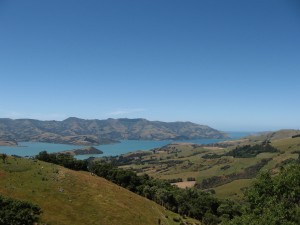 the downhill towards akaroa is very steep and i wouldn't recommend to attempt that part uphill with a loaded touring bike. akaroa itself is a pretty town where everyone's doing creative stuff like shopping or having a coffee latte at the waterfront. it was the only french colonization attempt and some historic buildings still adorn the town.
on my way back i stopped again at the rest area close to little river. the sun was setting along the slope of the mountain while a parade of black swans was passing to their feeding place near the shore.
the next day it was finally time to head back to christchurch for the buskers festival.