i wanted to get into the mountains again and cycling over the arthur's pass to the west coast seemed like the quickest way to get that. the first day i just cycled outside the city in more or less the same weather as on the day i arrived, but the next day was perfect. sunny and not too hot like an early day in spring.
i stopped at lake pearson for the first night. a wonderful setting with the mountain on the opposite shore which reflected on the lake's surface. after reaching arthur's pass village around noon the next day i climbed another 1000 meters on foot to the avalanche peak.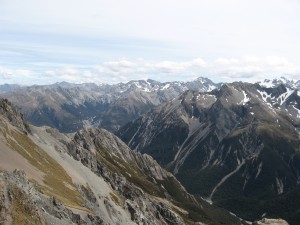 i held snow in my hands for the first time this year and was for some time almost alone on the summit.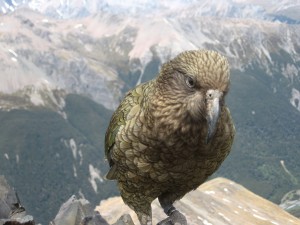 i was surprised to see a kea this high up. these nasty buggers can be quite a challenge while camping. stealing food is just the start as they don't stop short of tents and bicycles. luckily i could park my ride in a nearby shelter and had just no milk for breakfast which they snitched from my tent's vestibule.
the next day it was a short climb from the arthur's pass village to the actual pass and then a steep downhill for the first few kilometers and i was glad i started the pass coming from the east. i met another group of cyclists on my way down and by now i wasn't surprised to see one or more each day. so i might not mention all of those i meet.