after a long day's drive we checked into a hostel to wash off the dust from the road and to drift through the nightlife with a bed waiting at the end of the party. there is more or less just one club most people go to. the only club for hundreds of miles. some change after weeks of bush camping. we kind of enjoyed it…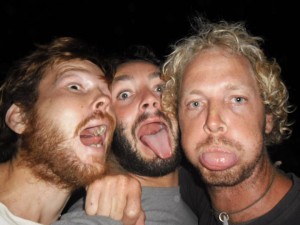 the next day we took it easy and just made it to the sunset at cable beach. we were in time for a special event of the year which can be seen only around broome for 3 days: the stairway to the moon. the title promises a lot and they make quiet some advertising and a show out of the actual event. a didge player accompanies the rising of the moon which fits quite well. the timing has to be right. a receding tide exposes sandbanks which interrupt the reflections from the moon on the water and combine to a pattern which, if you focus on it for some time and want to see it, looks like a stairway.
as we had still some days before the flight to brisbane and we didn't want to hang around the same club every night, we started for a trip to cape leveque in the north.