we continued towards exmouth, stopped at coral bay to go snorkeling and made once more use of the gas bbq's at lunch break. as ben got some nights paid accommodation from the insurance, we got ourselves a neat bungalow with shower, kitchen and nice veranda.
the next day we went fishing with ben's mate dan. as we were driving along the coast our attention was drawn to this guy pulling fish out of the water at minute intervals. it seemed like a good spot. we had to wade out for about fifty meters. the water was shallow with swarms of fish passing right next to us. a nice setting as the sun was touching the ocean at the horizon and somewhere between the land and the sea everything feels a little lighter. we were as lucky as the fisherman who first caught our attention and went home with enough fish for dinner and the next day. we moved out of our bungalow to stay another two nights at dan's place before turning inland towards the karijini national park.
there are several camp spot within the national park. we picked one and started to explore our new surroundings. every gorge has its highlights. the ones closest to the campground were perfect for swimming with their pools of clear but rather cold water.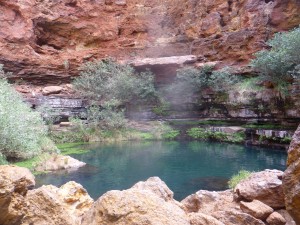 most of the gorges are easily accessible but  some offer more adventurous routes. here we're going from difficulty level 3 to level 5 on a scale to 6.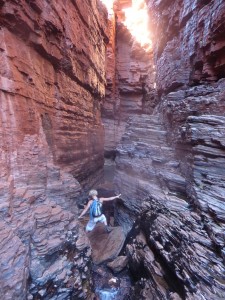 sometimes the path is the same the water takes and it gets quite slippery. the handrail pool has its name for a reason. there is actually a handrail which helps those who don't want to go for a swim to get passed the pool.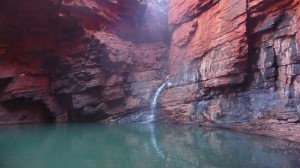 we walked, climbed and swam a little further but that's how far we went…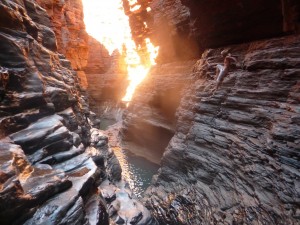 level 6 starts here, only permitted after registration and with proper equipment. we stayed three days in karijini. the scenery is stunning and because of the effort involved to get to some corners of the gorges, the experience is rather enhanced.
after leaving karijini, we went to port hedland and stayed at a friend's place for two days. a perfect opportunity to get some laundry done and rest a little before the long drive to broome.