with some help from the people of the station, we put the truck back on its wheels. we towed it the last twenty kilometers to red bluff where we got ourselves a nice shack, our home for the next week.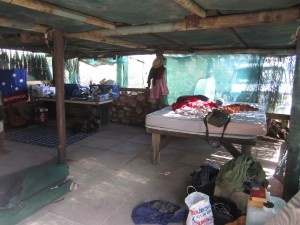 just in  front of the shack was our little garden with a bench to watch the ocean and the surf point and a fire place which we turned into our kitchen in the evening.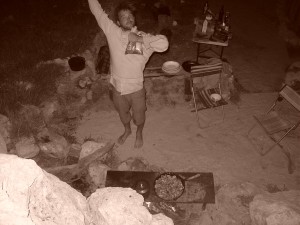 with sarah and laura, i walked up to the point the next morning. the view over red bluff.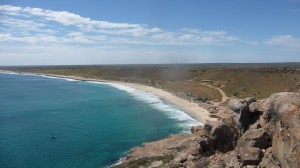 we spend half of the day enjoying the place and the other trying to get things organised. ben had to make a lot of phone calls to sort things out with the insurance and to organise the shipping of the boat over to the east coast. which was quite a mission with no reception, no internet and just one public phone. since we couldn't fit all of us in ian's truck, it soon became obvious that our group would split. the day the insurance company sent a truck to collect ben's landcruiser, sarah and laura took the opportunity to get a lift back to carnarvon to look for another way to continue their travel. our last dinner together.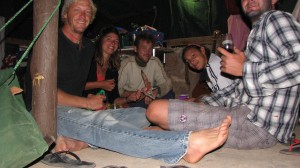 as the night progressed, we realized that we had to make a goodbye party for the troopy, which had served as trusty travelling companion for ben over the past five years. we grabbed a couple of drinks and snacks and were impressed that the stereo was still intact and i guess it was an adequate goodbye.
the three of us stayed for another three day, took the boat out for a last fishing trip and got a little drunk over playing beerbong with the guys who helped us out after the accident. no photo documentation of this evening.
after a week we left, put the boat behind ian's truck and went back to carnarvon. from there it was loaded on a truck and, with half of my things and the bike packed inside, transported over to brisbane. i just booked a flight from broome and will look into the repairs once i'm over there. it will be a lot easier in brisbane as it seems to have enough shops and bicycle communities to have the proper surrounding to get the bike going again. now we continue over coral bay to exmouth and then spend a couple of days at the karijini national park on our way to port hedland and then broome.