the trip to cape leveque was a typical australian trip: a bunch of people with supplies for a couple of days in a four-wheel drive taking some dirt road away from civilization to camp in the bush. they have their fishing gear and a couple of cold drinks at hand. and enjoy that at the campfire at night.
this is where i caught my last fish. a giant trevally which went back into the water and i went back to being a vegetarian. the lagoon from our camping spot.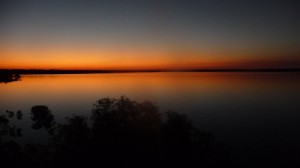 our second camping spot was at middle lagoon inclusive a nice shack with shower which we didn't expect to find there. we enjoyed the last days of camping before heading back to broome to be in time to watch the state of origin rugby match between new south wales and queensland. a very popular match fired up through local rivalry. the next day we said our goodbyes to ian and emma at the airport. which is tiny and it feels like walking directly from a small garden cafe out to the runway. at least by plane i was visiting central australia as we were flying over alice springs and endless nothingness. after six month on the west caost it's time to see what the east coast is like.