after leaving magaret river we went to perth, fixed the exhaust of the truck on the way and crashed at katie's place, a common friend of ben and ian from the sunshine coast. i had a lovely night out in freo once more and on the next morning we set out along the coastline to the north. with us now were laura and sarah, two girls from france travelling in ian's truck. the first night we camped surrounded by sand dunes just some kilometers after the pinnacles. so inviting to lounge there at sunset.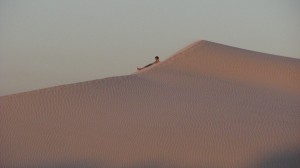 we continued along the coast and i tried out surfing for the first time. the waves where a little to big for me and so i focused on getting a feel for the board. we stopped in kalbarri for some more surfing and had a look at the gorges on our way back to the coastal highway.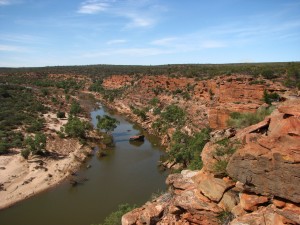 here's the whole crew. ian, me, ben, laura and sarah.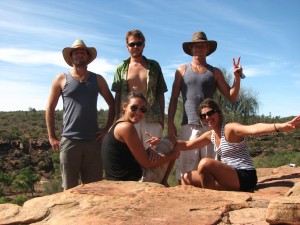 we cruised along with 'the national', 'custom kings' or 'paul dempsey' on the stereo until we reached shark bay. there we went on a boat trip for the first time. i caught my first fish but i threw it back in the water. after a couple of days we continued to carnarvon where we stayed the night to be there for ANZAC day and the dawn service.
after breakfast we continued 50km inland to a place called rocky pool. the light after sunset was beautiful as were the reflections in the water.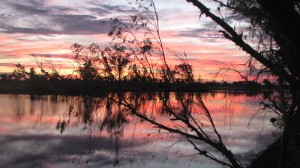 i played some songs as we were sitting around the campfire that night, in the morning we had some water acrobatics performed by laura and ian,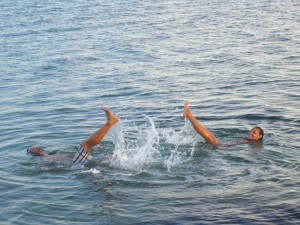 and in the morning we covered ourselves with clay sarah found along the river.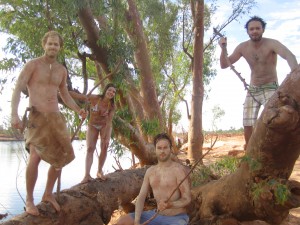 never mind if it was the detoxing or the fun we had, we felt good afterwards. we went back to carnarvon to get supplies as we were planning on spending some weeks away from any possibility to restock. next stop: red bluff.