after deciding to leave magaret river after three months, there was still the question where to go next. my original idea to go east was getting less attractive each day as it was getting cold down south and it would get colder and rainy over the following months, so i started thinking about going north instead. the only problem: the distances are huge, there is little in between places and not much options besides following the highway. since it seems the way to travel australia is rather by car or better a 4WD, i took a quick quiz at the internet and saw an add for a trip to the north on an old landcruiser with a roof-rack tagging a trailer with a boat. it seemed like plenty of space to get my bicycle on board. after an email, a call and a meeting, ben, the driver and proud owner, invited me for a short trip to the south first. since i hadn't seen this part and the hostel was now very quiet after the season had ended, i was keen to come along. even if that meant i had to be ready in 3 hours. well i was used to a hurried departure.
we passed pemberton again towards windy harbour where we spend the first night. it was strange after 3 month in a hostel to sit by a campfire in the middle of nowhere. first there is always a bit too much concern about the limitations. no shower, no kitchen, no light switch but strangely this fades quickly and the focus shifts more to the experience of simplicity. being thankful for a swim and the fresh feeling without a shower, for the hot food without a kitchen and the glowing of the camp fire which has just more to offer than a light bulb.
we took a look at a couple of beaches along the way. places i wouldn't have reached by bike since it was only sand tracks inaccessible with a loaded touring bike. most of those beaches where completely deserted.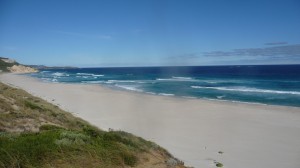 we made it as far as denmark, a cozy little town in the south west. from there we started back towards magaret river.
on our way back we set up camp at black point. a remote spot only frequented by locals and surfers.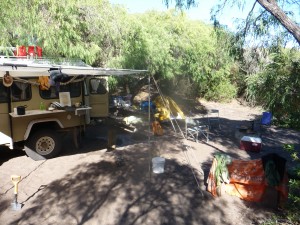 there we met up with ian, who would join us on the trip north, and two friends of him and ben. for dinner we had the salmon ben caught the day before. i didn't mind having only fish for dinner. it seems that my decision to become a vegetarian was mostly influenced by not knowing where the food comes from and not being able to be thankful for the meal, as there was hardly any effort involved in getting it. i will see if that is just an exception lasting for this trip. the rest of the time the boys spend surfing while i picked up the guitar, spend some time reading and was slowly getting back into the mood for travelling.