at padang bai, the ferry port to lombok, some of the "usual guys" tried to persuade me to get an accommodation. this time the ferry was supposed to be broken and the sea rolling with huge waves, a storm advancing and the gods were upset anyway… after a 4 hour boat ride and some hours of sleep on a wooden bench, i arrived just after sunrise and started towards the north mostly along the coastline with occasional stops for a snack or a swim.
i found a rather expensive place which i was pondering to take or not. now that i am in australia i am glad that i didn't look after every penny as the little extra i spent in indonesia would get me nowhere over here. the place had a great garden from which one could enjoy the sunsets and watch the fisherman.
that week was a cultural festival with traditional groups all over indonesia coming to senggigi, the tourist center on the island. there were groups with percussions, music, dancers, some were playing scenes from historic events and they were all dressed up in a unique style.
this guy was amazing. he seemed to move and dance without a care in the world.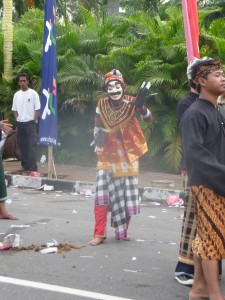 the streets were packed and cars had to wait until wave after wave of dancing or chanting people had passed the stage.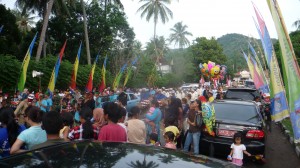 i then went on to spent a week on the gili islands. i ended up on gili air, the closest one to lombok. a nice mixture of island life with the majority of the local population living there. i didn't do much, not even taking photographs but i was a week well spent. as i wanted to do some shopping before leaving indonesia i wanted to be back in denpasar a couple of days before the flight to perth. i was lucky i did so as time was precious…