once on bali i started to cycle along the north coast towards lovina. a name given to a compilation of small villages and bungalow complexes to attract tourism. signs in german advertising "zimmer frei" oder "schweinsbraten" were targeting on a certain type of tourist. i  just stayed one night but the view from the balcony and the garden were wonderful.
as was the food…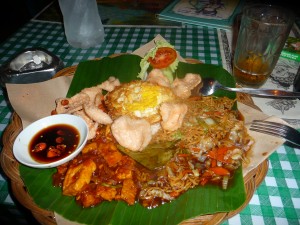 the ride through central bali on the next day was amazing. i took my time and didn't make it to denpasar that day. who could be bothered to rush it with such views?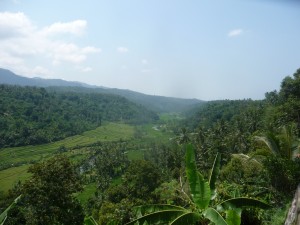 once in denpasar i found a nice guest-house in the centre. there i met chloe and jo from france which were spending their last days in indonesia before flying to australia. with a nice yard and the sounds from the youngest son practising for the gamelan ensemble at the nearby temple, it was the perfect place to calm down and make the last travel preparations. we had some nice evenings exchanging travel stories about indonesia, a country we felt would be worth spending more time on travelling.
i took the opportunity to get my bike in shape again as there are some decent bike shops in denpasar. when i stopped at one to pick up some parts i was invited for a bike ride the next day. once there i couldn't find the people again and the ride was rather a race…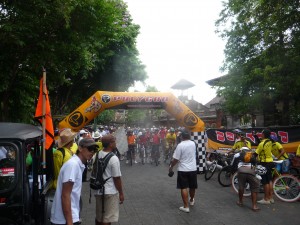 …so i decided to call it quits as i wanted to rest for the ride on the following day to one of the ferry ports to lombok. a photo on the way as just one example of a temple in bali.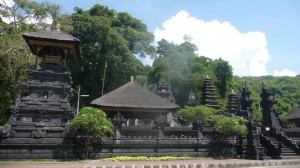 the balinese think they've got a higher density of temples than india… i think that's rather possible!