the weather changed quickly and it was getting colder and wet. i was already thinking about calling it a day, but luckily went on as the conditions where the perfect setting for the following scenery. after foggy landscapes i was entering into rain forest territory.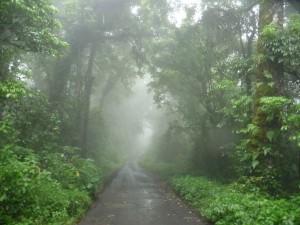 the fog, smells and sounds made for a surreal setting. looking to the left and right was possible only for a couple of meters until the dense forest blocked the view. various shades of green gleaming with the wet from the recent rain and humid air.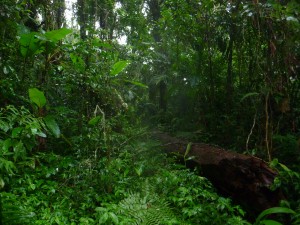 the sounds were amazing and it felt like being deep into a forest without any other sounds disturbing the atmosphere. only after two or three hours the forest made way for plantations as i was slowly rolling back to civilization. i found a restaurant and luckily they had some cheap but clean rooms as well as it was already dark and the next town still a couple of kilometers away. despite the language barrier there weren't too many moments of silence. such lovely people and it almost felt like being part of the family even if it was just for that day.
a similar story happened the day after. after a nice day of riding i had difficulties to find a guest-house as every place was booked out. but when i made a break, a barber who was just about to close his shop invited me to stay over night at his family's place. sometimes it is strange to receive such an invitation after just knowing a person for such a short time but the reason for the invitation is often just curiosity on behalf of the local people. after dinner and some songs on the guitar in their backyard with the neighbouring families attending, i went off to bed somewhere in the hallway between the kitchen and the living room. their yard borders the railway and when the first train rolls through in the morning you feel like all the volcanoes of indonesia erupting under the bed. but i wanted to start early anyway. after breakfast and sending the children off to school we took this photo outside their house.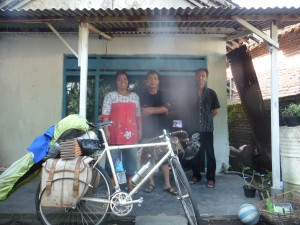 it was my last day on java and despite some difficulties with the traffic, the stay in jakarta and the tour around mt. bromo made the stay worthwhile. the ferry crossing took quite a while as the captain seemed to be waiting for the current to take us to bali rather than to bother the diesel engines.