after a week in penang, it was time to leave… rather wanting to keep moving than wanting to leave. i cycled back into georgetown and arrived at the pier just before it started to rain.
there are a couple of boats which shuttle between penang and butterworth. it's the oldest ferry service in malaysia and operates since 1920.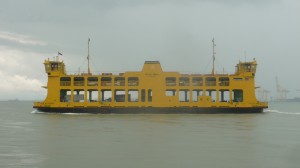 once on the mainland, it is a unpleasant drive out of butterworth. i didn't feel save within all the traffic and passing an accident with an unmoving body of a scooter driver lying on the street didn't help to shake off that feeling. but after a while there is a separate lane for small two wheelers and it felt a lot better with just an occasional scooter passing by. the rain was becoming more and more intense as i was not only riding towards kulim but also towards a blackish clouded sky ahead. it was every day a challenge. after some time the rain and i agreed on a compromise. one day i caught some rain and on the other the rain caught me.
i checked into a homestay, which in malaysia is rather a form of hotel with a/c and tv. as there wasn't much to do in the evening, i just checked the further route  to the east coast.
even though i had a big day of cycling ahead of me from gerik, i just couldn't get myself to get up early enough. it was going uphill for the most part of the day and soon it became obvious that i would have to camp as i would not make it to the next town. i arrived at the top in the evening and was soon surround by a class from the perhentian islands who wanted to take a picture with me. they later helped me to translate when i asked if i could pitch up my tent for the night. the people from the restaurant there were very friendly and agreed. i even got a shower and was ready for dinner. i don't know when i had a burger the last time. mine turned out to be a folded omelette. it was quite a messy affair with all the ketchup and mayonnaise they squeezed inside. made me wonder why this thing became so popular. the rest area was a busy place and i felt quite happy about the company as i expected a lonely campsite for the night and i am kind of in a social mood lately.
in the evening the sunset was again cut short by an approaching storm. which bathed the scenery in a peculiar light…
and provided a good lightning show at night. that was a very short one, as my camping spot was also a favourite with trucks which came in during the night. so i had a running engine around me most of the time. well the next morning i just had to roll downhill and the lack of sleep didn't matter that much. i made it to tanah merah and looked forward to get to the sea again the following day.