karin had just signed up on couchsurfing and got immediately invited by a member of the penang group, which included an invitation to the mid-autumn party, an annual harvest festival.
a widespread folk tale tells about the role the mooncakes played in overthrowing the mongol rulers in china in the 14th century. as group gatherings were banned it was very difficult to get organized. noting that the mongols did not eat the pastry, an advisor to the chinese rebel leader came up with the idea of smuggling messages in the pastries, thus making the uprising possible.
when we arrived we were greeted by our host and a table packed with food.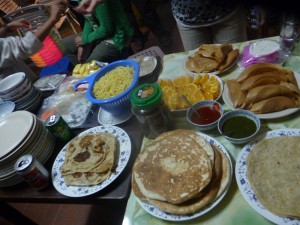 after a round of mooncakes we had the obligatory pomelo. the skin nurtures the hair with its essential oils our host chin mai explains.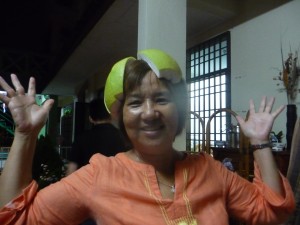 soon we were chatting away with stories of our travels.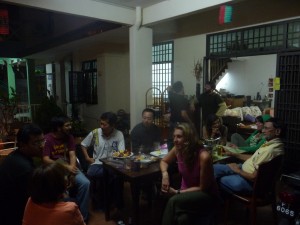 sometime at night, i got a lift back to town and was dropped of at the hainan temple, which also serves as couchsurfing meeting point. one of the couchsurfers switched on the lights especially for us.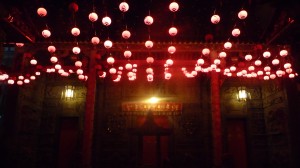 i left with an invitation for the next evening and to stay couchsurfing. i couldn't refuse as chin mai agreed to leave out the chicken and make a vegetarian curry instead if i would come to dinner.
good deed of the day: saved a chicken!