the next morning i toured the island. my first stop of the day was the kek lok si temple, largest buddhist temple in southeast asia.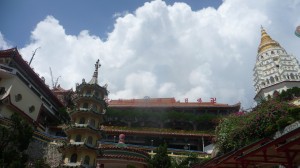 an inclined elevator takes the visitors up to the guan yin statue and a terrace overlooking georgetown. climbing up the pagoda provides about the same view.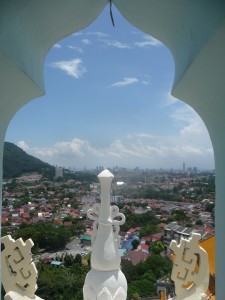 just beneath the pagoda is an inviting spot to rest the weary feet.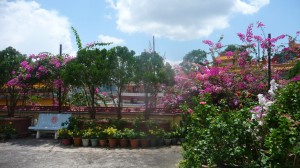 i replenished my strengths at a vegetarian restaurant down at the market, before making my way to balik pulau. one place i was passing has a rather unusual fence made out of old bicycles.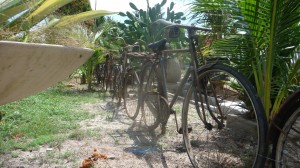 from balik pulau it's a scenic ride to teluk bahang. further along the traffic increases, but it's still a pleasant ride back into town. three times it started to rain and three times i was soaked to the bone, but after half an hour most of my clothes and myself were dry again. freshly showered and hungry, i made my way to the red garden, one of the food stall parks, together with karin from sweden who was staying in the same guesthouse. a waffle with vanilla ice cream and chocolate sauce on top blended in nicely at the end of this evening's menu.