the ferry was going directly to central georgetown. we had an amazing sunset as we were nearing the pier.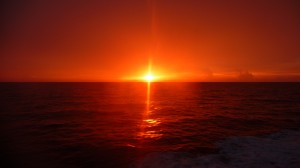 i checked into a cheap but clean guesthouse, a recommendation from ben and margo. one of the first things i did the next morning was to get some maps and information about malaysia. the tourist office was closed due to renovations but luckily i found john and his little tourist information spot.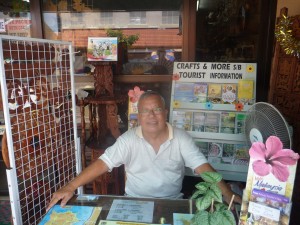 when malaysia started an initiative towards opening the country to tourism, he was still a teacher. as the government seized his classroom for the training classes of tour-guides, he was one of the first to raise his arm and wanted to join the program. after some exams he became his certificate in 1975. he provided me with lots of maps, booklets and information and we chatted half an hour. he was coughing a lot during the conversation and when i asked him if he's alright, he proudly presented me an attestation from a doctor, showing that he was excused from work. but as he is working independently today, he wants to be the one who decides whether he opens his stall or not. he is 71 and when i asked him how long he will continue, he shrugged and told me as long his body allows him.
the city has a system of cycle paths. often it is just a sign with no separate lane, but if it's possible, the signs guide you through smaller streets where there is little traffic.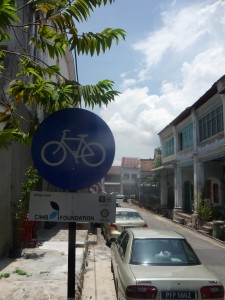 in most city maps are recommendations for a route through town to see some of the colonial buildings like the city hall.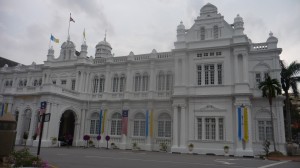 the diversity of cultures is best displayed in the variety of food. people come from as far as from kuala lumpur to penang to stock supplies. one of the better known food gardens is gurney drive.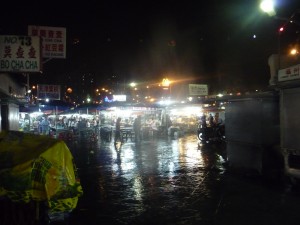 basically nothing more than a cluster of food stalls, those places have a vibrant atmosphere and local music acts perform especially during weekends.