the ferry was rather fast and soon the only remembrance of thailand was the flag waving at the stern.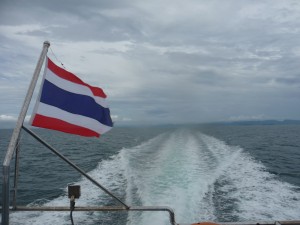 after an hour we already reached kuah, the district capital of langkawi and port for the ferries. the immigration formalities are easy. after filling out the entry card, european citizens get a visa on arrival valid for three months.
langkawi has all the modern comforts and goods available. it is developed and rather busy, especially for someone coming from the south of thailand.
more traffic, faster driving and no shoulders makes it also harder for a bicyclist to get around. nonetheless i went for a ride the next morning along the coastline. passing the marina at telaga harbour with its custom house,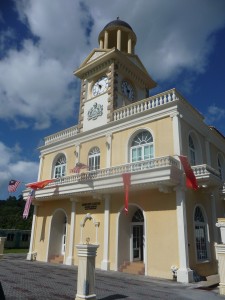 lighthouse and some nice boats laying at anchor.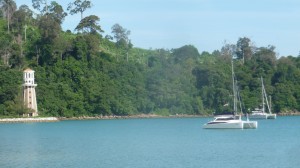 after another stretch along the coast i ended up at the cable car…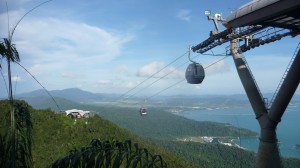 which provided an excellent view over the island.
after two days i was already thinking about leaving, as food and lodging are pricy and the greater part of the island is orientated towards mass tourism. on top of this i was told that my room was already booked by someone else when i wanted to extend my stay for another night. so i was out on the street again and i thought it was the right time to leave. i cycled back to kuah and took the evening ferry to georgetown on penang.