my hotel room was just opposite of the mambang mosque. as it was ramadan, i was waking up the sound of the azaan-ul-fajr, the first call to prayer before sunset, which marks the beginning of the daily fasting. what was annoying in the mornings, was a rather pleasant backdrop during the rest of the day combined with the view from the roof terrace of the hotel.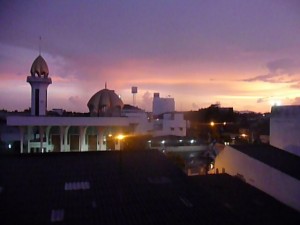 the national museum in satun has quite a history. built as a royal residence, it was later used as town hall, was occupied by the invading japanese in world war II and presently hosts the museum. it tells more about the history and today's life of the muslim community in these parts of thailand.
a display of the sunat ritual. circumcision of a young boy.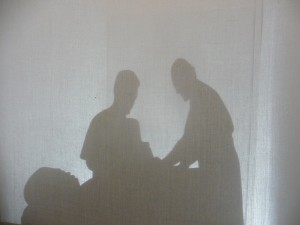 a painting of satun with its most famous buildings and places.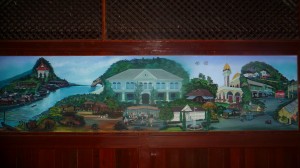 that night, a storm was passing the city and the sky was enlightened by thunderbolts.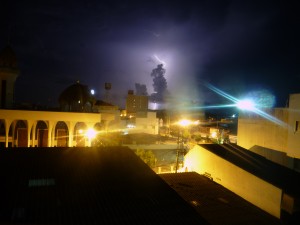 i spend a whole week in satun and had no motivation to go anywhere. no nearby islands or caves could lure me away. i rather liked the laid back atmosphere and spent the days updating the blog, reading and picking up the guitar more often until my visa ran out. i cycled the last 10km to the ferry port outside the city and bought a ticket to langkawi. malaysia, here i come!