the crossing from china to laos is quite easy. you get your visa on arrival without any delay. except that i had a group visa which i had to leave with the chinese and no exit stamp in my passport when i arrived at the lao side and soi had to make an extra run back to the chinese officials.
after 1o km into laos the picture from lofty concrete buildings, which seem to grow over from the chinese side, changes to simple wooden huts.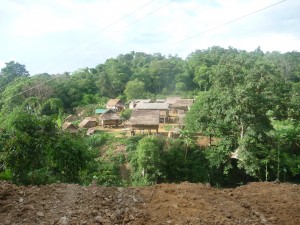 the first thing you learn in laos is to say hello. especially the children make sure that after countless repetition the phrase "sabai dee" sticks.
the north of laos is quite mountainous, the mornings are misty and even at midday the temperatures are bearable. just the food gets monotonous after a while especially with the fresh memories of the chinese food in mind. life is simple, tourism almost absent and the people welcoming and open-hearted, which makes it easy to get by despite language barrier.
i also had my first volleyball match after some guys invited me as i passed by. just next to the court another group was playing sepak takraw, a sport native to southeast asia and maybe best described as similar to footvolley.