we spent two days in tirupati to be able to make a day-trip to tirumalai, one of the holiest places in india. we heard that before but located on top of a hill it would at least reward us with a view… there is a pilgrims path going all the way to the top but after spending the last days cycling we felt more like taking the bus.
there are several ways to get into the main temple. depending on how much money you are willing to spend you can enter almost immediately or wait until thousands of people before you find their way in… waiting while being trapped in a gangway pressed against bars and the only relief coming from people selling snacks and drinks.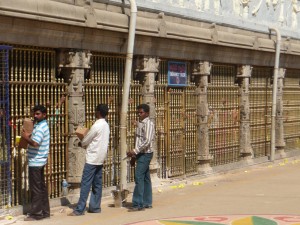 we were later told it took more than six hours. we went for plan b and found ourselves a viewpoint. here with the pilgrims path coming up the hill which we missed out on.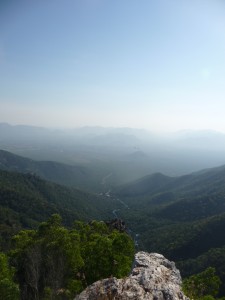 their was distant music coming from the distance while we lay in the evening sun.
on the way back to the bus we stopped to get a taste of the colorful street-food…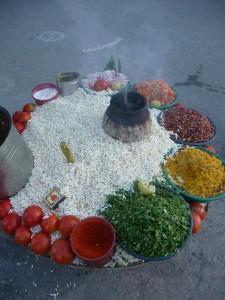 after hampi we missed sleeping under the stars for a while. luckily our guesthouse had a substitute…
the next morning anna took the train to chennai but i decided against it after it was too much hassle to get my bicycle and luggage on the train. i was told at the cargo department that the bicycle would arrive but my luggage once put into a corner of their storage or the train might just get lost cause it was too small. i didnt want to take chances…