from anantapur we continued over rayachoti to tirupati, the second planned stop on our way to chennai. we came by a big dam which monkeys chose as their home. one of them had no arms and so i shared some of my cookies but that rather increased the energy with which the others tried to get something to eat as well.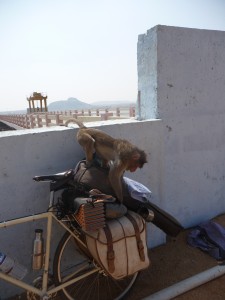 the monkey even managed to open my front bag and take out the bag with contacts, travel infos and the worldtourguide itself. after a short hunt i was lucky and the animal dropped it.
while traveling through india it helps to pick up at least some of the peculiarities of its people. one thing is definitely curiosity. one day we made the "yes man", taking every invitation if it was to take a look at another temple or to get a lesson in history, religion or india itself.
anna is watching a woman rolling beedis, the small and cheap indian competitor to the cigarette.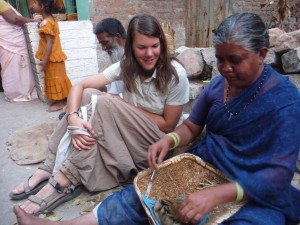 after a spontaneous turn to an eco-tourist natural park we regretted our yes-man attitude for a while. a weird guest house with hundreds of indians who wanted to take a photo with us. in the park itself were a lot of signs promising all kinds of beautiful and wild animals but mostly the signs remained the only attraction…
it reads: "let us protect these innocent, beautiful and dumb denizens of our forest". the dictoniary says dumb can also mean speechless …or maybe voiceless. i hope that was the intention.
the trip to the waterfall the next morning restored our belief in the yes man attitude.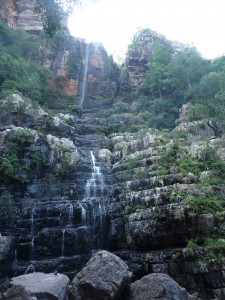 i almost forgot another "yes" to an interview for a local newspaper. it was fun but we never found out if it was actually printed.