we stayed a day longer in gokarna,doing the laundry, sleeping, going shopping and styling our bikes the indian way with colourful stickers of ganesh.
the ride to om beach was just 5km but to enter the beach we first had to carry our luggage and cycles down some stairs.
when we looked for a place for the night we found every place to be full and so we turned to the advice given by sabine and lukas and asked at the place they stayed if we can put up our tents. they gave us a place between the huts and palm trees and we don't pay anything but eat at their restaurant in return.
the first day we did what everybody's doing here…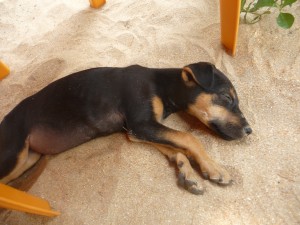 there's a woman selling fruits on the beach but if you buy a pineapple or some bananas you have to pay tribute to the local mob…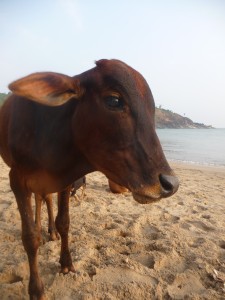 otherwise they eat your shorts or any other belongings which you leave unattended.
almost every evening there are some concerts. sometimes directly on the beach and sometimes in one of the cafes and restaurants.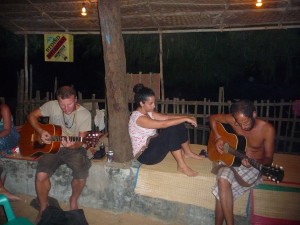 these are matthew from england and yochai from israel. a lot of talent in this place and not only on guitar but also on didgeridoo, flute and percussion.