it felt good to be riding again after 10 days of relaxing but also a lot of lazyness. a place like goa makes it easy for you, takes you by the hand and won't let go of it once you made up your mind to leave…
we heard good things about gokarna, a hindu pilgrimage center, 80km south of palolem.
on the way we met sabine and lukas, also from switzerland, traveling in the opposite direction after flying to the south of india from iran which they were traveling before like we did.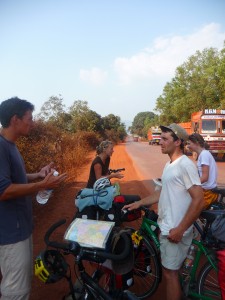 they told us about the beaches of gorkana and where we may put up ours tents if there is no hut or cottage available.
after arriving in gorkana we decided to head straight for om beach. we didn't go far before we met another cyclists from germany who told us that it was still a long and hilly road ahead. as it was already late we decided to look for a guest house in town and continue tomorrow.
we found a nice guest house and later a wonderful roof top restaurant to regain our strengh after this first day on the bike in 2010.