i stayed in the youth hostel of dubai, the only budget accommodation in town. ove with his motorcycle fetched me the next day and we went on a city tour.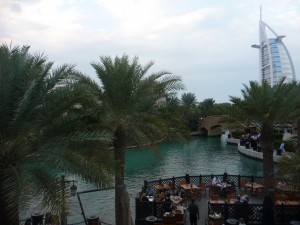 the burj al arab seen from one of the many shopping attractions dubai has to offer. here's another one…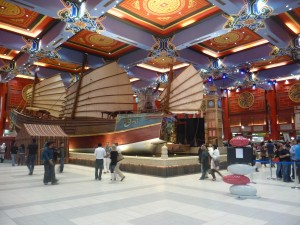 a big shopping mall themed around the travels of ibn battuta, kind of a marco polo of arabia. what can i say… it's bigger. every mall has it's gimmicks but in the end you get tired of shopping there as well.
we also went to see the palm jumeirah. part of the palm islands which will, once completed, extend dubai's shoreline by 520km. which is really impressive and expensive! some of the projects already came to a halt. already finished on the far end of the palm and facing the sea is the atlantis hotel…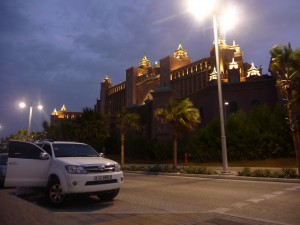 while back in iran dangerous construction sites weren't even marked and you had to watch out not to end up in a ditch, here the signs are bigger than the site itself.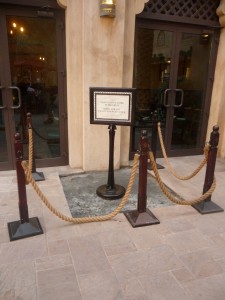 the sign reads:
"maintenance work in progress
sorry for any inconvenience caused"
maybe this is just funny when you have visited iran before. in esfahan for example we had to balance around a construction site to get to the hotel and one step in the wrong direction would have ended with at least a broken leg. well i guess they would have been sorry for this inconvenience.
dubai is really made for motorized vehicles. there are only few pedestrians in the streets and it adds to the artificial feeling in the city.
i turned to my books for the remaining two days before my flight was going to mumbai.