after a week of relaxing in esfahan i was eager to get back on my bicycle to continue to yazd. i had a wonderful last day with amelie and till which i first met in turkey. we walked around the imam square, paid a last visit to the tea house and then went to see the masdsched-e emām.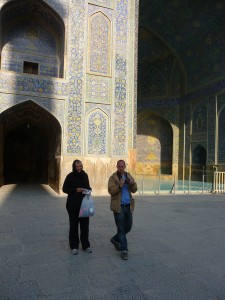 after we got ourselves a falafel and took a walk along the river we said goodbye for the second but not for the last time…
back at the amir kabir hostel was a nice group as well. martin from belgium who was cycling europe and is now on his way to dubai, raphael from italy and fabian from germany who after 11 months of traveling around the world is looking forward to get back home again.
i heard from other cyclists that 100km from esfahan is a homestay run by mohammad, who first came in contact with bicycle tourists as a child. he started to invite people to stay in his house and since then hosted more than 300 cyclists from all over the world. so my next stop was…