in rome i followed the advice of sarah and was looking for the freestyle hostel. unfortunately it was booked out but the guy at the reception found another place for me and saved me from a long and fruitless search. so i ended up at the mona lisa hostel. very small, tim from england and the guy form california were the typical relaxed hostel staff and the perfect place to rest on such a journey.
the first evening i just did all those thing which you can`t while on the road. washing clothes, take a shower, use the luxury of a kitchen and fell into a bed with absolutely no need to get up early.
the next morning i followed many great persons who walked the pantheon like gerhard, worldtourguide #3.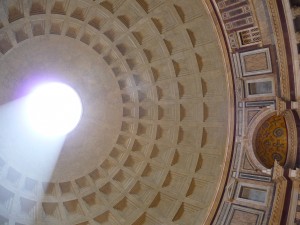 in the evening i thought of a promise to myself to play the piazza di spagna. with the support of 2 girls from lyon we made our way to the famous stairs. as we arrived we got a warning by a group of germans who were just asked to stop playing by the carabinieri. so we moved up the stairs a bit and had fewer people as audience but the place is more than enough. still the best part was walking home and singing into the streets of rome…