after i found only one connection from pescara to split which was quite expensice, i booked a ferry from bari to dubrovnik and continued to travel south.
i stayed at the sea until salerno cause it is the best thing to go for a swim when it is to hot to cycle. i didn`t stay in naples and continued directly to sorrento and stayed the night on top of the hills dividing it from the amalfi coast. i had a wonderful time cycling along the coast to amalfi. the view from the road is worth every drop of sweat.
i had to sweat a little more to reach ravello and the villa cimbrone, worldtourguide #4 from achim. a great composition of influences at the time and the terrazza dell`infinito really makes you feel on top!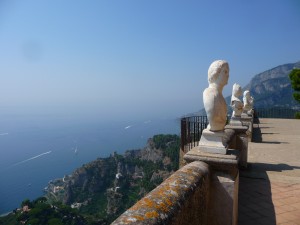 have a look at the worldtourguide or www.villacimbrone.com/en for more information