for the night i ended up at a camping place. i don't know why as i wasn't that exhausted and there would have been enough spots nearby to spend the night for free.
i put up my tent between the campers of birgit and helge on the one and uschi and klaus on the other side. here is a picture from a late breakfast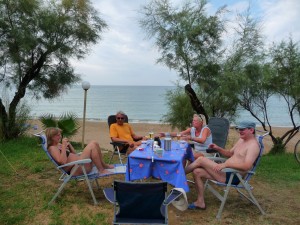 in the evening i played a concert and we had some beer and wine together. after 3 songs i suddenly realized my guitar was broken at the neck. it must have happened the night before when i pulled my bike over a barrier which sometimes lies between you and a nice sleeping place.
i was lucky that it wasn't broken entirely and no pieces were missing. in the morning i was invited to breakfast from uschi and klaus and soon after we drove to the city. both of them know the town quite well  since they were staying at the campsite for the whole summer. we soon found the guitar store and the owner gave us some advise how to successfully do the repair. he called an instrument builder but after the phone call recommened to try it ourselves since otherwise it would be pretty expensive. so we bought wood glue and returned to the camp site.
i was quite nervous, maybe a surgeon feels that strain before an operation and was glad that with the help from helge everything turned out nicely.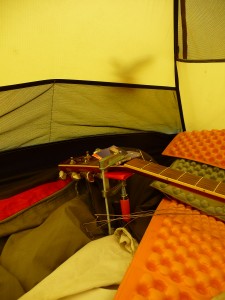 to celebrate the success we had great grilled haloumni, greek salad and watermelon in the evening and talked into the night with greek wine and ouzo before we said goodbye. thank you for a wonderful stay at the paradise camping site!