olympia is a place i was interested in because my tour feels close to the olympic spirit. i wasn't sure what to expect since i hadn't seen any pictures from the archeological site.
i was surprised how much of the buildings were intact and you have more for the eyes to see and your imagination to build on.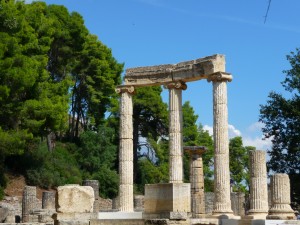 you can imagine how this place looked like centuries ago which was hardly possible with the circus maximus in rome for example. even if there is just a segment restored like in the picture above or the single column of the temple of zeus it helps a lot to draw a picture in your mind.
i spent two hours in ancient olympia before i made my way back to the coast. as i had decided to take a look at mani, one of the fingers of the peleponnese and at kardamili, worldtourguide recommendation by alf.