after i arrived in lefkada and had a little break i continued my way. a bath at a beautiful beach in mind…
there are more tourists as soon as you leave the mainland. which you soon notice as prices go up and you can see on the plates of the cars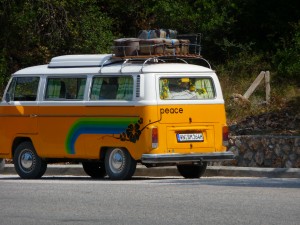 there is less traffic and so you are more at ease to look at the scenery. i decided to head straight to porto katsiki and was happy again to have followed a recommendation…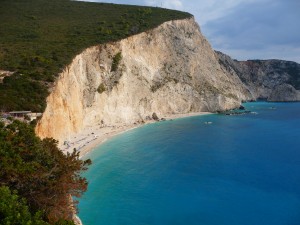 after a swim i just made some miles to find a sleeping place at a tavern. it is like a free camping spot as a service from the tavern but is most likely to be paid back when you have dinner or some drinks in the evening.
on the next morning i saw that i had a flat tire and as this was fixed my pump broke. the tavern and no nearby households could help me. i decided to have breakfast first and i was glad that a pickup from a bakery and one with fruits came by and i was able to buy from the same source as the tavern.
after breakfast help was on its way. i saw a campervan with bicycles on the back. i stopped them and it turned out they were from lake constanze. with air back in the tires and a big thank you for saving me from walking to the next town i continued to vassiliki to take the ferry to kefallonia. as my watch was still on central european time i just saw the ferry leaving after i had already bought my ticket and went back to town to get some supplies. so i spent half of the day at the beach until the last ferry in the evening.