Arriving in Santa Lucia at the Carretera Austral, i was somewhat taken aback when there was a perfect asphalt road starting just a few hundred meters out of the village. I'm not a dirt road fanatic in the sense that i grumble at any sign of asphalt, but in my mind the carretera austral was like patagonia, wild and rough around the edges. Recently a lot of stretches were paved and in others, works were in progress. Sometimes with explosives to make room for two lanes, and so some parts of the road are closed at certain hours. At least the second half towards Puyihuapi were dirt and i arrived somewhat relieved that at least some parts remained untamed.
At the plaza, i met Boris from the casa del ciclista in Coyhaique. Some minutes later Samuel from Spain, and since two years a resident of Santiago, arrived and we had a cyclists's chat.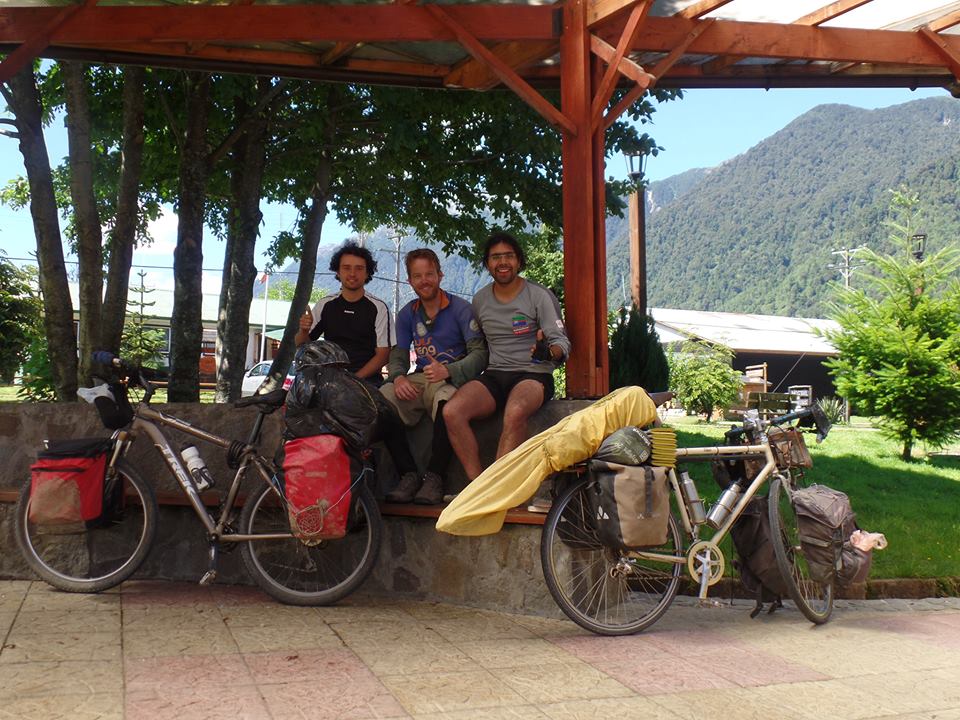 There is a hostel next to the lake which also offers camping. After dinner we were presented with this view.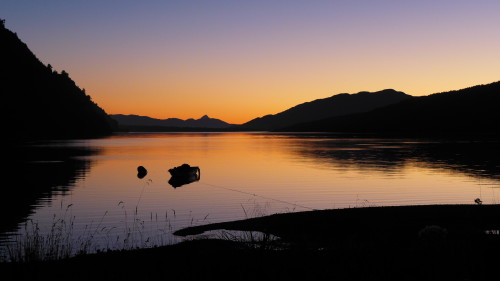 Back at the hostel i met Flo from Germany who was travelling with Ariel from Santiago. They both had participated in the race in Futaleufu the day i was passing through. The next morning they started early but we made plans to catch up later as we all in to intended to make a stop at the hanging glacier in the Queulat National Park.
There is a campground at the side of the road which was already packed with other cyclists and an old bus who now served as common room and sleeping quarters. In the afternoon we first walked to the mirador which is a two hour walk uphill.
When we got down again we found out that the fifteen minute walk to the lagoon at the bottom is not only shorter, less streneous but also offers views just as good.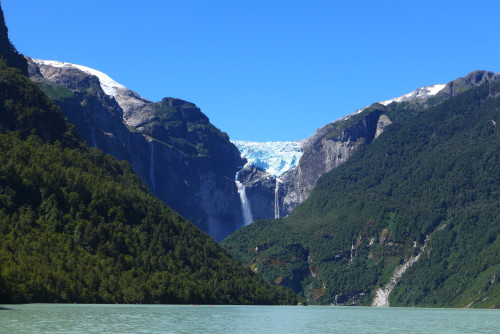 We thought about taking a swim and the colour of the water looked inviting, but after wetting our feet we were content to leave the rest of our bodies unfrozen.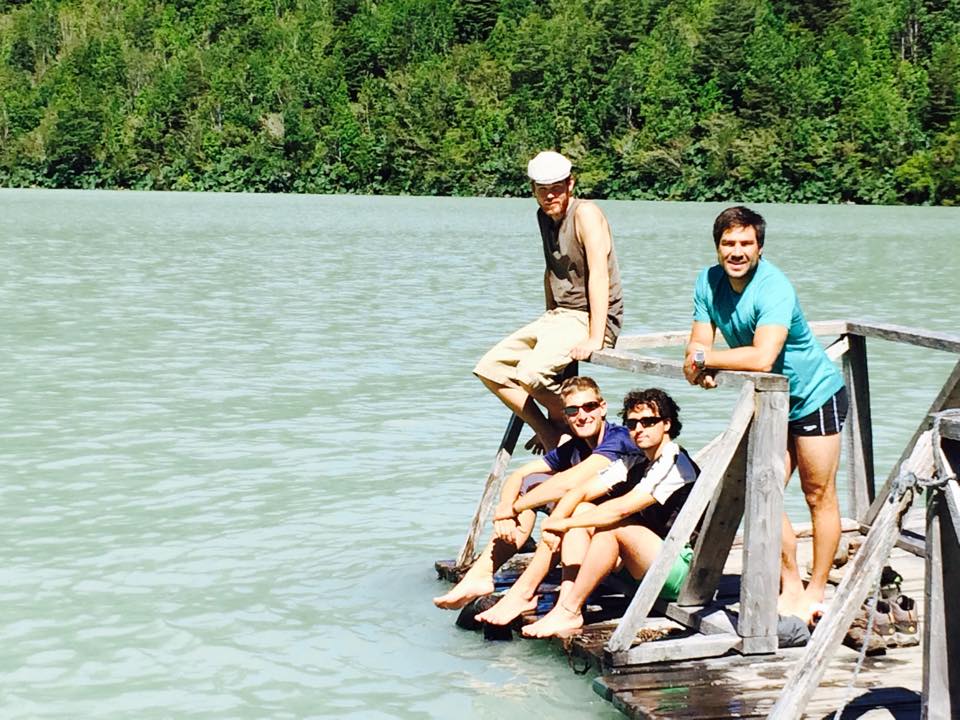 In some parts the influence of which part of the globe the people came to settle here is obvious. Not only the name giver to this bridge but also to one of the many local beers or cerveza artesanal.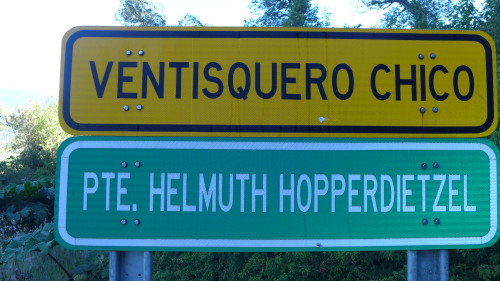 The paved part towards Puerto Aisén doesn't see a lot of traffic and for the better part of it, we could cycle side by side occupying one lane while chatting. Here with Flo and Sam, who took the photo.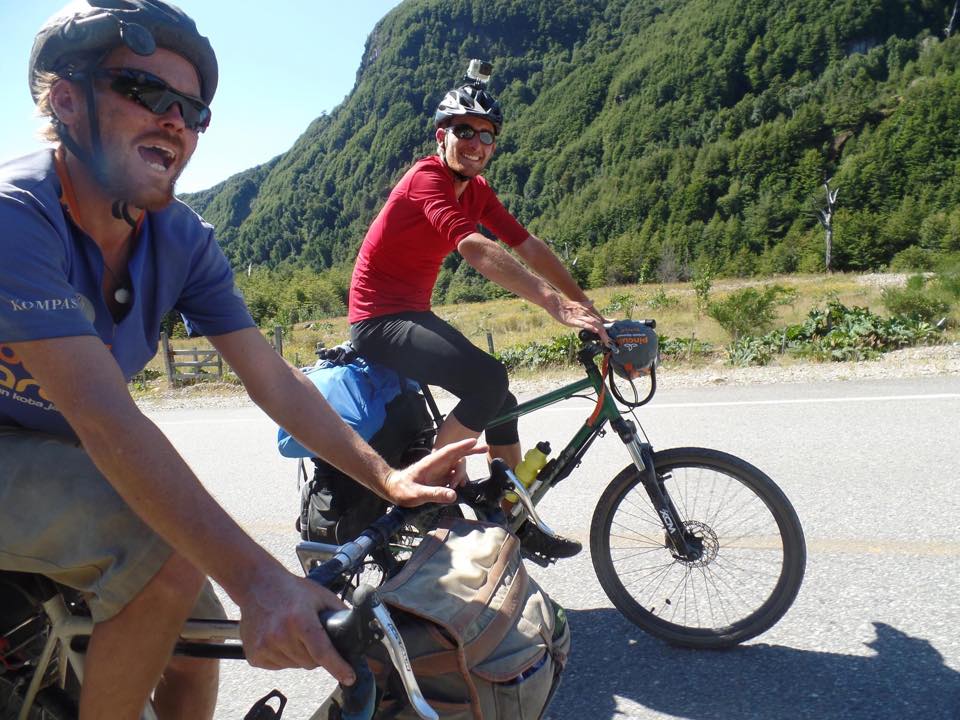 In one of the villages we met Kevin from San Francisco and continued as a group of five. Only some kilometers from town we found a nice camping next to Lago Las Torres. We had a swim and relaxed at the shore until it was time for dinner. Here with Kevin, myself, Ariel, Samuel and Flo.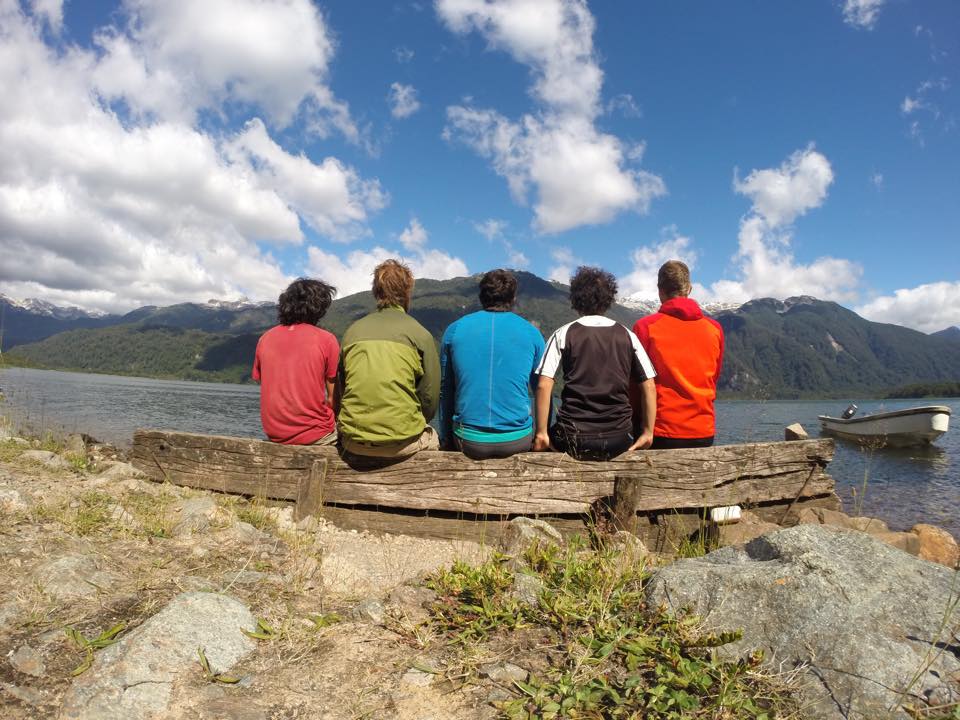 We had our share of bike problems: broken racks, punctures, a snapped spoke and trouble with the brakes. While working on Flo's broken rack,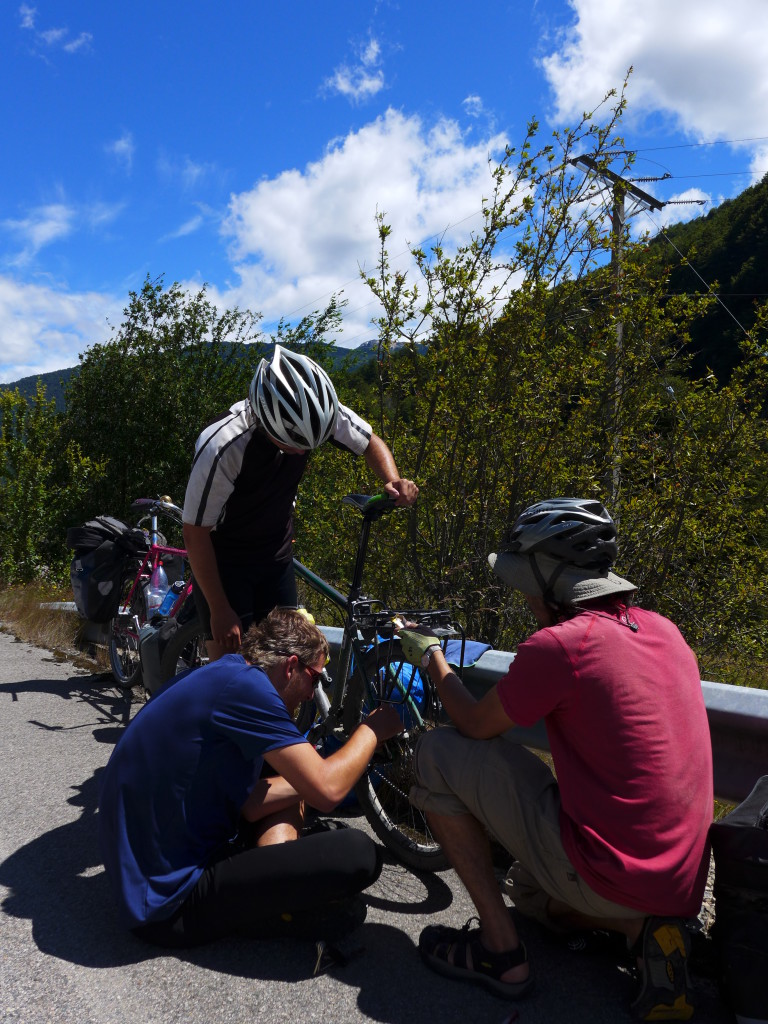 Ariel preferred to have a siesta.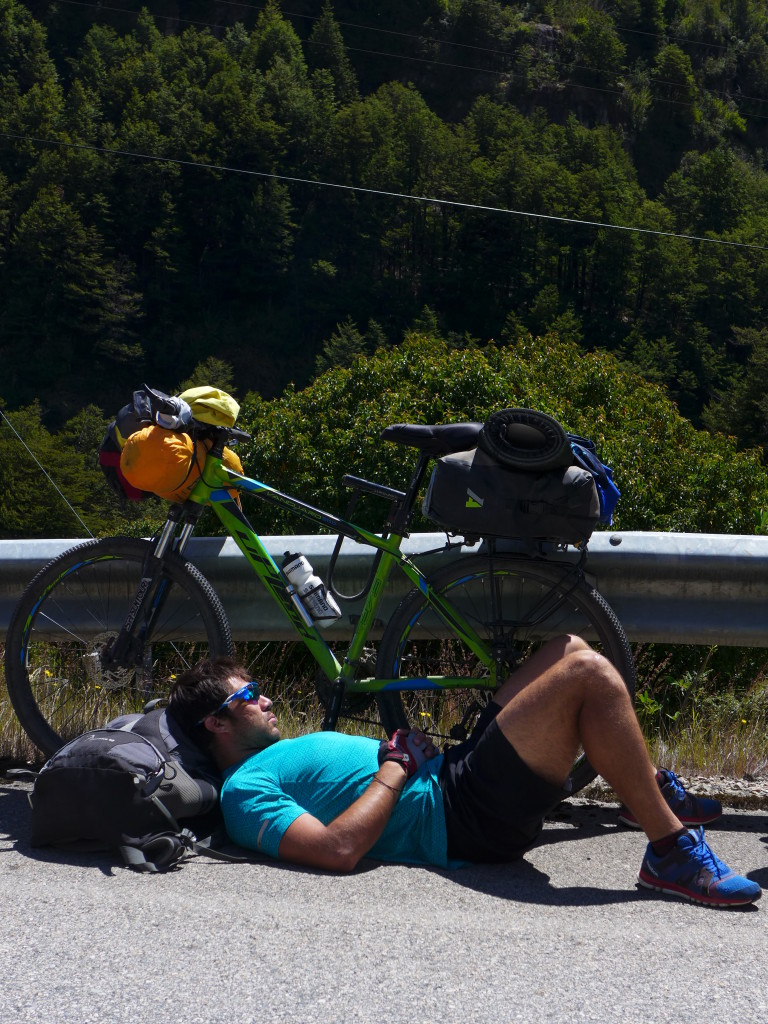 Water is plenty around here. If you are not seeing a waterfall on the side of the road…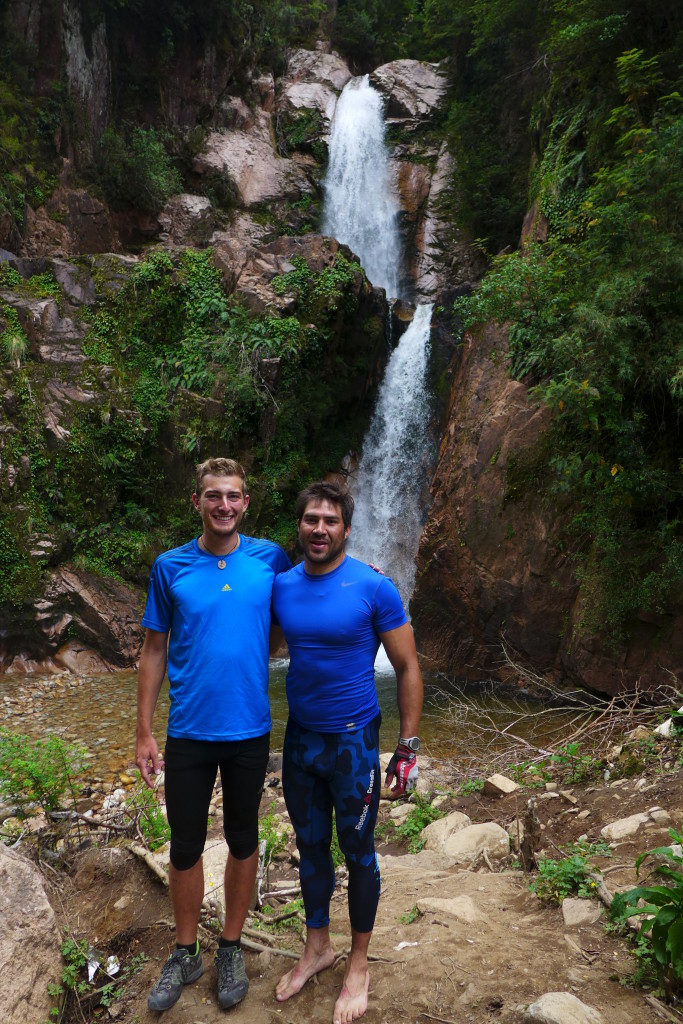 you're likely to follow a lake or a river.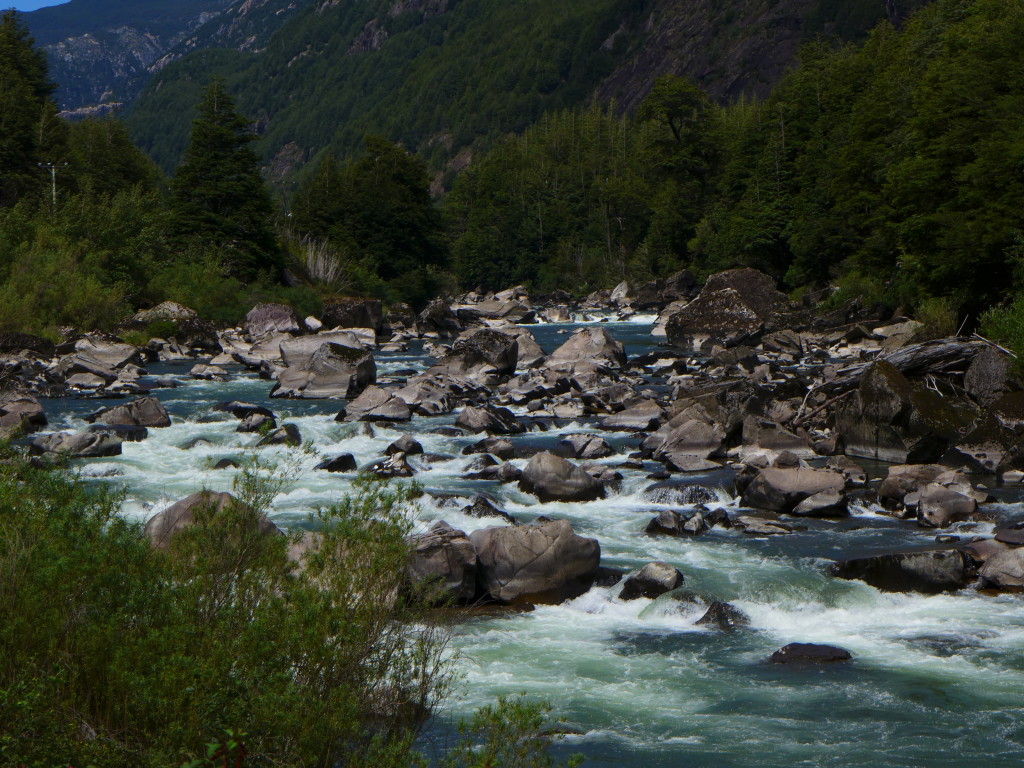 When arriving in Coyhaique, we first had a hearty lunch in a restaurant before making our way to the casa del ciclista and occupied the last remaining space in the garden with our tents.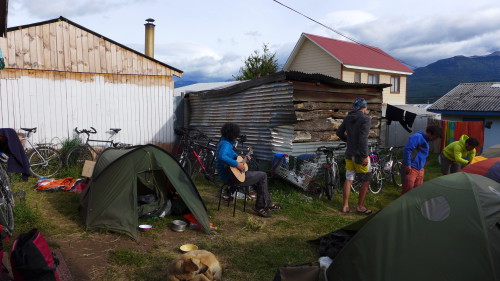 Boris was still on his way to Puerto Montt but his friend Paulina took care of the place. Such a lovely person and such a great group of people we had to pleasure to meet during our stay.